World news story
UK and US support Malawi with pharmacy storage units
The UK and US are working together to provide prefabricated pharmacy storage units for better drug storage and security in 106 facilities.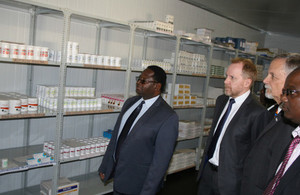 The UK and US governments, through the Department for International Development (DFID) and United States Agency for International Development (USAID), are working together with Ministry of Health to reduce the problem of lack of appropriate medical supplies storage in Malawi's health facilities.
The UK government has provided £3.8 million and the US government $2.5 million to purchase and install 115 pre-assembled pharmacy storage units in 106 health facilities across Malawi.
The pharmacy storage units, which take only two to four days to install, will help reduce deterioration of medical supplies, and the potential pilferage of pharmaceuticals . The new storage facilities will also create additional space for other clinical use.
Head of DFID in Malawi, Philip Smith said:
"As one of the leading partners in advancing the health sector in Malawi, the UK is committed to supporting more efficient use of clinical resources. These new storage facilities will address the very serious constraint to the availability of quality medicines for the people of Malawi, which puts the lives of millions of poor children and adults at risk."
USAID Mission Director, Doug Arbuckle, said:
"Malawi is now under a great deal of scrutiny. It needs to demonstrate greater accountability for managing life-saving medicines. Without a strong commitment to do so, support from our two governments, as well as those of other donors, could be very well shifted elsewhere."
The first unit was commissioned today at Chitedze Health Centre in Lilongwe and the project of installing all units is expected to take four months.
A 2014 USAID Assessment found that 77% (559 of 732) of Malawi health facilities have less than half of the pharmacy storage space required to meet current demands. The situation will only get worse as the population grows
Each of the prefabricated units comes with 100mm panels with Chromadek roof sheeting; a roof of galvanized and IBR sheeting; 2 air conditioners; double door with security gates; shelving and pallets; and a desk, cabinet and chair.
Published 22 June 2016