World news story
UK and the Philippines: Working together for a positive future
Transcript of speech delivered by Daniel Pruce, British Ambassador to the Philippines at the Makati Business Club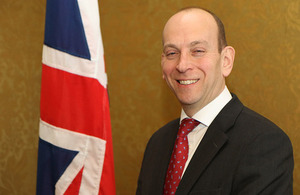 Thank you. I'm very grateful for the opportunity to speak to this joint meeting of the Makati Business Club, the Philippines British Business Council and the British Chamber of Commerce in the Philippines. My thanks to Ed Chua, Peter Perfecto, Ambassador Tambunting and Chris Nelson for the invitation.
I'm delighted to be here and have already thoroughly enjoyed making many new friends today. Good afternoon to those of you joining us via Facebook Live, Periscope and Twitter.
Magandang tanghali sa inyong lahat. Ako si Daniel Pruce, ang bagong British Ambassador sa Pilipinas. Masaya akong makadalo dito ngayon. Masuwerte akong magkaroon ng pagkakataon na mag-aral ng Tagalog. Napakagandang wika ito. Pero napakahirap nito para sa akin. Samakatuwid kailangan kong mag-practise araw-araw para matutunan ito.
Sana sa susunod pwede na akong magbigay ng isang diskurso dito sa Tagalog. Pero, ngayong araw, English muna! Pasensiya na kayo!
I'll speak for about 20 minutes. I'd like to begin with a few words about myself. I'll then go on to talk about the UK's position in the world as Brexit and conclude by looking to the future partnership between our two countries. Then we'll have time for some questions.
I joined the British Diplomatic Service exactly 27 years ago, straight from university. Mrs Thatcher was Prime Minister on my first day in the job. Curiously she resigned at the end of my first week. I'm sure there was no connection!
I've been fortunate to have done some very rewarding jobs in some fascinating places: I was the Deputy Ambassador in Madrid until last summer. The Embassy is in one of Madrid's iconic high-rise office buildings, the Torre Espacio – owned by Emperador. It was nice to have a Filipino landlord!
Before that, I was the Deputy Ambassador in Bangkok from 2008 to 2012, during a period of great political uncertainty in Thailand.
I worked in the 10 Downing Street Press Office for three years when Tony Blair was Prime Minister. I've been the Spokesman at our Representation to the Euro¬pean Union (EU) in Brussels. I also worked on EU trade policy in Brussels for four years.
So, over the course of my career, I've worked in Europe and Asia. I've done policy, consular, prosperity, security, service delivery and corporate work. So I hope I come to this job with a pretty thorough professional formation under my belt.
But diplomacy is not the sole domain of diplomats, and British diplomacy stretches beyond the Foreign and Commonwealth Office. No-one has the monopoly on understanding the challenges we face in today's world.
Throughout my career I've worked closely with the full range of government departments and devolved administrations of Scotland, Wales and Northern Ireland. And all of my jobs have featured close collaboration with people outside government, including NGOs, wider civil society and the business community. So I'm particularly pleased to have the opportunity to speak to you all today. You are core partners for me.
I feel passionately about what I do, because it is fundamentally about helping people, about making the world a safer place. So it's a huge honour for me to be in the Philippines, serving my country. It's the job I've always wanted.
In getting ready for the job, I met people right across the British government and beyond. That reflects the broad range of our relationship: trade and investment; security; tackling global issues like organised crime and climate change – the list goes on.
I presented my credentials to President Duterte in September. Only at that point did I formally become British Ambassador and could fully and freely represent the UK. I told the President that it's an enormous honour to have been entrusted with this responsibility and that I would do all I could to strengthen the relations between our countries. Those will remain my guiding principles as I set about my work over the next four years.
During those four years the United Kingdom will leave the European Union. That will mark a profound change in our institutional relationship with the rest of Europe and the wider world. The negotiations that are underway in Brussels are complex and detailed, and will no doubt be tough at times. But, once concluded the UK will be the master of its own destiny in a way that it has not been for the past 40 years. That brings enormous opportunities.
The United Kingdom is, and will remain after its exit from the EU, an engaged and influential global power.
Let me just illustrate that.
The UK is an active permanent member of the UN Security Council, of NATO, of the G7, the G20 and the Commonwealth and continues to play a leading role globally. We are open for business, committed to peace and security, and a leading supporter of the international rules-based system. Our commitment to our extensive security cooperation with international partners remains steadfast.
The UK is the fifth largest economy in the world – the second fastest growing major economy in the world last year. We ranked in the top 6 countries in the world as a place to do business.
British diplomacy has helped to maintain the Iran nuclear deal, the JCPOA – a deal which is not perfect, but represents the best hope for preventing a nuclear-armed Iran.
At the UN we have been working to put pressure on North Korea – rallying support for three sanctions resolutions so far this year –with the aim of finding a political solution to the crisis. An area where we have enjoyed particularly fruitful collaboration with our partners in ASEAN.
We have also been at the centre of the response to the humanitarian crisis of the Rohingya peoples, as a result of the situation in Rakhine in Burma. Again working closely with our partners in ASEAN.
And I should underline our respect for, and appreciation of, the excellent work the Philippines has been leading within ASEAN on these important issues. We look forward to what I am sure will be a successful ASEAN Summit here in a matter of days.
Next year, the UK will host a Commonwealth summit with a special focus on improving opportunities for women and girls, and we are taking forward proposals for a near total ban on the ivory trade in our country.
Indeed the UK will host the Illegal Wildlife Trade Summit in October. An important global issue with direct impact on many of the species under threat in the Philippines –for example the pangolin. I look forward to working closely with the government of the Philippines as we prepare for that conference.
In Iraq and Syria the UK has played a leading role in the coalition that has reduced the territory of Daesh/Islamic State by 90 per cent.
I should like to take this opportunity to pay tribute to the Armed Forces of the Philippines for their successful liberation of the city of Marawi from IS-affiliated terrorists. The United Kingdom stands with the Philippines in the fight against global terrorism. Our countries face a common threat that shows no respect for international borders, and a threat to our common prosperity, our well being and our way of life.
Day-in, day-out we are delivering our ambitions for Global Britain. The British Foreign Secretary, Boris Johnson, has visited 51 countries since he took on his responsibilities. Quite an agenda for the UK's 268 Embassies, High Commissions and Consulates spread across 168 countries. We are using all our overseas effort - military, humanitarian, development, political, diplomatic -to make the world safer and more prosperous. That is not just in the interests of British citizens, but in the interests of all peoples around the world.
As the Prime Minister said in her speech to the CBI yesterday the UK is attracting record levels of investment.
London is regarded as the world's leading financial hub; we have the largest market share in the world for financial services. We are also leaders in insurance, computer and information services.
And the UK is home to some of the world's fastest-growing and innovative sectors: creative industries, advanced engineering, high-value manufacturing, defence and security, education and skills, agritech, energy and infrastructure, professional services, food and drink, healthcare, ICT, life sciences and retail.
So we are doing a lot. And our partners want us to do more. A Global Britain is not only in the interests of the security and prosperity of our people, it's also a vital force for good in the world with a genuinely global reach.
In the British Embassy we have 200 people, working hard across the full range of our relations with the Philippines. We also host the FCO's Corporate Services Centre, looking after 140 diplomatic missions in 92 countries – our very own contribution to the BPO sector!
We also house a visa hub that services 15 countries. I, and the Embassy team, take pride in literally being at the centre of the UK's global effort.
And as we work hard to build security and prosperity around the world we also maintain the United Kingdom's proud record as a champion of human rights. Across the globe we speak up for what we believe in: including the rule of law, freedom of expression and religious belief, protection of minorities, the freedom to love who you choose – I am proud that my Embassy has conducted 18 same sex marriages this year.
In every area where we have experience to share , that may be of interest to our hosts, we stand ready to do so. Countries' circumstances differ but they can learn from each other. As I have said before, here in the Philippines we stand ready to share from our own experience across the board, for example whether that be concerning rehabilitation for drug users; or in countering radicalisation and violent extremism.
I was delighted that, with the support of the Department for Transport, we were recently able to host a seminar on the urban transport challenges of Manila with the participation of Transport for London.
In all these, and other potential, areas we share our experience and offer our perspectives with humility.
The bilateral ties between us are strong. At the heart of this lie the links between our peoples. We are fortunate to have 200,000 Filipinos living and working in the UK, making an enormous contribution to the country.
14,000 healthcare workers are in our own National Health Service, bringing their high level of professional qualification and strong caring skills to our country.
Nearly 200,000 Brits came to the Philippines on holiday last year. Over 17,000 have now settled here.
We celebrated just two weeks ago 71 years of friendship between the Philippines and the UK.
Turning to the commercial relationship I am very pleased to be able to say that trade and investment between our countries is getting stronger. We are the number one EU investor (over £1billion) and the 3rd largest in the world, behind only the US and Japan. Exports in goods increased by 38% in 2015. UK total exports of goods and services to the Philippines in 2015 were £628M. Two way trade stands at £ 1.4 billion.
Over 200 British companies are active here. They include Unilever, Shell, HSBC, Standard Chartered, AstraZeneca, Diageo, Arup, Mott MacDonald, Atkins, Nasmyth, Dyson, JCB, Marks and Spencer, River Island and Halcrow, NATS. I could go on….
And many more are looking to come, attracted by the high quality workforce, the booming economic growth and the rapid construction of world class office space (going up faster here than in Singapore).
Philippine companies in the UK include BPI, Monde Nissin through their investment in Quorn Foods, and Emperador through their Whyte & Mackay acquisition: that produces 50m litres of alcohol every year from five distilleries and a bottling plant in Scotland. Ayala/IMI bought the British company Surface Technology International in April of this year.
Machines and transport equipment remain the largest UK goods export sector to the Philippines. Continued strong household spending bodes well for our consumer goods exports in retail and food and beverage, which make up nearly 10% of total goods exports. Clothes and manufactured items account for 15% of our exports, with medical and pharmaceutical products growing fast.
UK services exports to the Philippines are also growing rapidly. Business services saw a big jump in 2015, more than doubling to £80m. The UK remains an attractive tourist destination, with direct flights and an efficient visa application process. And the telecoms and ICT sector represents about 18% of UK exports to the Philippines and was worth £15m in 2015.
In the infrastructure sector the Philippine government's projects, and the investments by the private sector, present opportunities for UK companies in construction, engineering, project management and professional services. Other sectors of interest include health, education, aid-funded business, digital services, and food & drink.
It reflects these many opportunities that the Prime Minister's personal Trade Envoy, Richard Graham – known to many of you – has been a regular visitor over the past few years.
It is tribute to our confidence in the sustained growth of the economy that the Head of UK Export Finance, Louis Taylor, visited in September and announced a doubling of the cover provided by UKEF to £4.5 billion. Cover, I should add, that is provided in Philippines pesos.
And it is evidence of our commitment that one of the biggest teams in our Embassy is our trade and investment team - a team to which we will be adding a specialist Export Finance officer shortly.
In this increasingly positive commercial landscape we need to keep a number of important considerations in mind.
Business also has responsibilities. We expect UK businesses to operate at all times in a way respectful of human rights whether in Britain or overseas. We do not see either trade promotion or advocating protection of human rights as being in opposition. Indeed experience suggests that demonstrating that British businesses are doing business responsibly could provide them with a competitive advantage.
The eradication of modern day slavery is an important priority for the UK. Modern slavery encompasses slavery, servitude, forced and compulsory labour and human trafficking. We are working with the private sector in addressing these. Raising awareness of modern slavery within the private sector reduces our vulnerability to it. We are committed to working with companies in efforts to eliminate human rights abuses within supply chains.
We want to see British businesses competing on a level playing field and winning business overseas through fair and open competition. We argue across the globe for domestic reforms that reduce corruption and increase transparency and accountability.
We are using our own resources – the cross-government "Prosperity Fund" to support projects in the Philippines on infrastructure development, fair competition in the market, improving the business environment through transparent business operations and anti-corruption efforts, and the low carbon energy agenda.
Our work continues in identifying the key market constraints to doing business here. The feedback we get from business people like you helps us focus our efforts.
For example we are working closely with the Chamber, MBC and PBBC on areas such as the integrity initiative, promoting common ethical and acceptable integrity standards among various sectors of society.
We are also pursuing changes in investment restrictions and government procurement laws.
Let me highlight three things which demonstrate how healthy this relationship is:
After a 20 year absence British beef is coming back to the Philippines: following extensive work with the Embassy the Filipino authorities have lifted the import restrictions established during the BSE outbreak in the UK during the '90s. Producers and distributors are starting to talk. Soon I hope you'll see British beef – the best beef in the world – on the supermarket shelves here in the Philippines and on the menu when you come to fine establishments such as this one. The Embassy has already imported 70 kilos from a farm in Suffolk in the UK. It is really remarkable quality. I've served it at the Residence. There's just a little bit left in my freezer.

In the other direction, Jollibee is coming to the UK! I'm thrilled that Jollibee will be opening their first restaurant in the UK next year. I am sure it will be a great success. And I think it is tribute to the welcoming and supportive commercial environment the UK offers to overseas investors and to our thriving, and expanding, catering sector.

A cyber security Memorandum of Understanding between the UK and the Philippines was signed by the Philippine Government last month. The UK is very keen to support the Philippines in the area of cyber security. We have companies, like BT and BAe, with very strong experience and capabilities in designing cyber security systems.
I am also pleased to say that Richard Graham will be back again in February 2018 for his 4th visit since 2016 to lead a British architectural expertise trade mission – showcasing the best of iconic British architectural design.
As a recent arrival I am struck by the breadth of our relations and the exciting prospects for the future. Nowhere do I see this more than in the field of education.
With the support of our partners in the British Council and in the Committee on Higher Education (CHED) we have been able to develop a remarkable programme of Trans National Education: 10 Filipino universities working with 9 British universities to deliver, from next year, 17 post-graduate programmes in a broad range of disciplines - all of them relevant to the public and private sector priorities of the country.
But that's only the beginning! We are already working to make the programme still more ambitious for future years. The successful passage of the Trans National Education Bill will support this work still further. I hope that will pass both Houses soon.
And my ambition, during my four years here, is to see a British university establish a physical, bricks and mortar, presence here in the Philippines.
Our engagement on education also reaches into the critical areas of science and innovation too. Our respective government agencies have jointly awarded around £14 million for science and innovation grants since the Newton Agham Programme started in 2014.
Still on education I would like to highlight the Foreign and Commonwealth Office's own "Chevening" Scholarship Scheme. This long running and highly successful global scheme gives the world's future leaders the opportunity to live and study in the UK for a year.
I'm very pleased to see that the number of Chevening scholars from the Philippines has been steadily increasing - I saw off 27 earlier this year. But we want to go further.
During my time I want us to reach into every corner of the country, into every community, to find the leaders of the future. I am sure we can double, treble even, the numbers we are sending to the UK.
And my proposition today is that we should do that in partnership with you. Yes, you can support the Chevening programme. You can sponsor a scholar. Some of you already do, for which many thanks. That helps us create more global citizens. That helps you identify, and build lasting relationships with, the brightest and the best of the Philippines. It's a win-win. And, personally, I think it's a bargain. If you're interested do let us know.
I mentioned earlier that no-one has the monopoly on diplomacy. Successful diplomacy is, by definition, diverse and inclusive. Talking to a small group of people with similar perspectives is not the way to address the complex problems of today's world.
A good Ambassador gets beyond the smart end of town and travels to see the reality of the country, to understand the day-to-day of peoples' lives. A good Ambassador gets out and about, talks to everyone – not just the people he or she agrees with . Our job is to work out what is happening and understand how we can advance British interests and make a positive difference.
A good Embassy is an open, active, diverse place - engaged in its environment, confidently projecting its perspective and listening to the views around it. A good Embassy is ventilated by the fresh air of ideas and debate.
In my experience, inclusive diplomacy, where all voices can be heard, and where diverse opinions can be expressed, explored and challenged, works best. I want my Embassy to be diverse, inclusive and open. And I will do my utmost to advance the interests of the United Kingdom in the Philippines to the absolute best of my ability over the next four years. I look forward to doing so with the support, guidance and advice of you all.
So I'll conclude now.
I am optimistic for the future of my country: a country that will continue to be an active and influential player on the global stage, promoting stability, security and prosperity. And I am excited about the future of our relationship with the Philippines, where the opportunities for partnership are enormous. I hope I have illustrated just some of the areas where the UK is active, engaged and (I hope) influential. I will do my best to ensure that continues to grow over my four years here.
Maraming salamat for your patience.
Thank you all.
Published 8 November 2017