World news story
UK and Tanzania Celebrate Alumni Links
UK Alumni in Tanzania (UKAT) hosts event at British Council in Dar es Salaam for UK graduates based in Tanzania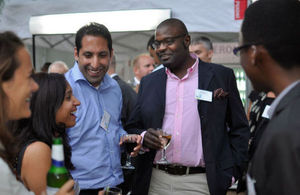 The achievements of UK graduates in Tanzania and the nation's growing academic links with British universities were celebrated at a recent gathering in Dar es Salaam. The event, held by the UK Alumni in Tanzania (UKAT) organisation at the British Council, marked a week of events which highlighted the relationship developed through a range of institutions and individuals in both countries.
The celebration was held on the last day of Aston University's Microbiology Roadshow that offered presentations and practical activities to students in Dar es Salaam. A team of top academics led by Professor Anthony Hilton (Head of Biological and Biomedical Science at Aston) offered students a unique insight into the study of microbes and their interactions with humans, animals, plants, and the environment. Dr Julia Brown from the roadshow team said, "It was our pleasure to spend time here in Tanzania this week for the first time. The whole team were blown away with the friendliness, attitude and intelligence of the students we met – they were a true credit to Tanzania."
Academic achievements and partnerships between Tanzania and the UK were then commended by UKAT's Patron, British High Commissioner Dianna Melrose, who addressed the UKAT reception to mark the visit of British universities to Dar es Salaaam, Moshi and Arusha. The envoy, a graduate of King's College London, told university international officers from Kent, Salford, Aston, Stirling, Southampton, Northampton, Coventry and South Wales (Glamorgan), "I am a firm believer in the value of UK universities. I am very struck how many ministers and influential decision-makers in Tanzania are alumni of UK universities." The university international officers who were present responded by praising the efforts of UKAT and welcomed the opportunity to establish more academic links with Tanzania. They encouraged UK graduates across the nation to help their universities by becoming 'ambassadors' that can give advice students wishing to study in the UK.
Peter Kasanda, a graduate of Brunel University, also spoke to the reception guests about the skills offered by UK graduates from Tanzania who return home to make a vital contribution to the economy. Mr Kasanda, Legal Director at Clyde & Co LLP, asserted that the quality of UK education was recognised by employers, universities and governments across the world. "Tanzania is experiencing unprecedented economic growth. With this growth comes the need for skill levels among young Tanzanians that meet international standards. UKAT is becoming a bridge linking Tanzanians with UK academic institutions in order to achieve this objective."
The reception attracted Tanzanian, British and other foreign nationals who studied in the United Kingdom. Tarunjit Singh, Channel Development Manager at wine and spirit specialist MMI Tanzania, who studied at Newcastle University commented, "MMI Tanzania was proud to sponsor this unique event that attracted professionals who benefited from the world-class teaching in Britain and are now applying their knowledge to develop this nation."
Support was also received from Tanzania Breweries Ltd through their Peroni and Kilimanjaro beer brands in addition to MH Gallery and The Citizen who was the official media sponsor. Bakari Machumu, MCL Executive Editor, remarked, "The Citizen was delighted to support this occasion which recognised the achievements of so many Tanzanians who studied in the UK. They are role models for young Tanzanians who wish to follow in their footsteps."
The following day Tanzanian students and young professionals had the opportunity to meet representatives of UK universities at an education fair in Dar es Salaam to discuss the various study options open to them in Britain. The event saw a significant rise in enquiries relating to post-graduate study options, especially in business and engineering subjects. Some higher education institutions were making their appearance in Tanzania for the first time. Sergine Monplé from the University of Central Lancashire was delighted that her institution had the opportunity to begin establishing links with the country. "I have met many students and had meetings with public service bodies requiring short courses for their staff. Hopefully academics from my university will come out to develop these links," said Ms Monplé.
Neema Ndikumwami, UKAT's membership secretary, speaking after the week of activities, reflected, "Our graduate network is proud to help promote academic and continuing professional development exchanges between Tanzania and the UK." For more information about UKAT visit their website
UK Alumni in Tanzania is a non-profit, membership-based network aimed at promoting friendship and connections among the graduates of UK universities who are residents of Tanzania (citizens or visa holders). UKAT's members all share the experience of enjoying student life United Kingdom and receiving a degree from a higher learning institution. The network was formed in 2012 by a cross-section of UK degree holders in Tanzania together with UK stakeholders in the country.
Published 19 September 2013