World news story
UK and Taiwan's Data Alliance sign up to open data collaboration
ODI's Sir Nigel Shadbolt signs Letter of Intent during visit to Taiwan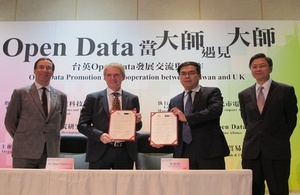 The UK's Open Data Institute (ODI) and Taiwan's Open Data Alliance (ODA) have signed a Letter of Intent today, which will see the two organisations promote and explore the potential open data holds for the public, private and academic sectors in both markets. The Letter was signed by ODI Chairman and Co-Founder Sir Nigel Shadbolt during a visit to Taipei, and Chairman Peng Chi-Ming, from Taiwan's Open Data Alliance at a high level open data forum which involved Taiwan's ICT Minister Chang San-Cheng and Chris Wood, Director of the British Trade & Cultural Office in Taiwan.
The agreement will see the ODI and ODA collaborate on a range of potential activities including: * addressing areas of common interest, such as policy, laws and regulations, case studies, technologies and standards * sharing expertise, knowledge and best practice * carrying out collaborative projects * designing support and collaboration systems for open data driven businesses * developing open data technologies
Sir Nigel Shadbolt, ODI Chairman and co-founder said today: "At the ODI we believe in the power of open data as a major factor in promoting open government, growing a data driven economy, and tackling critical social and environmental issues that affect us all. We are looking forward to collaborate with the Open Data Alliance, who share these values, on a range of open data projects and activities. The ODI is also forging partnerships across the world through its membership program, and we welcome companies from Taiwan's strong ICT industry to join us."
Taiwan's Minister Chang said at the forum: "Open Data can improve the transparency of government and improve citizen participation, which is needed in Taiwan to resolve all kinds of environment and economy issues. Open Data can help Taiwan not only to be seen by the world, but also unlock potential economic value and enable Taiwan companies to go global. The UK's Open Data Institute is well respected in the open data area and Taiwan can learn from its example. I am glad to have a partner like the ODI with whom we can promote Open Data together and we expect to have more interaction that benefits each other in the future."
Further information
About the ODI: The Open Data Institute catalyses the evolution of open data culture to create economic, environmental, and social value. It unlocks supply, generates demand, creates and disseminates knowledge to address local and global issues. Founded by Professor Sir Nigel Shadbolt and Professor Sir Tim Berners-Lee, the ODI is an independent, non-profit, non-partisan, Limited by Guarantee company. It has secured £10 million over five years via the UK innovation agency, the Technology Strategy Board, $750,000 from global philanthropic investor Omidyar Network, and is working towards long-term sustainability through match funding and direct revenue. Quanta Computer in Taiwan, the world's largest notebook PC manufacturer, is its member since July 2013.

About the ODA: Established by more than 250 ICT members this year, the Open Data Alliance (ODA) in Taiwan is to promote the reuse of open data in the industry. The ODA's missions include Share information, integrate resources, and cooperate business

Collect the requirements from industry, and conclude the suggestions to Taiwan Government
Promote the international cooperation
Promote the services and applications of open data for the enterprises and people
Published 11 December 2013
Last updated 12 December 2013
+ show all updates
to amend an type error
to make change on a type error
make an typo error
First published.