World news story
UK and Taiwan share experience on low carbon cities
Promoting low carbon environment, UK and Taiwan share experience on sustainable cities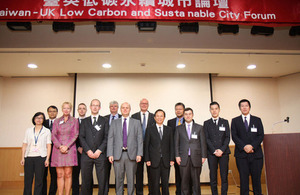 The British Trade & Cultural Office and the Environmental Protection Administration (EPA) of the Executive Yuan co-hosted the "Taiwan-UK Low Carbon and Sustainable City Forum" today. A group of leading UK businesses from the low carbon and sustainable infrastructure sectors shared their experience in the seminar both on how to develop low carbon cities and also the importance of sustainable design.
Mr Damion Potter, Acting Director of the British Trade & Cultural Office, said: "There has been a strong working relationship between the British Trade and Cultural Office and the EPA for many years. We have worked together on developing low carbon cities, and we are keen to continue to work closely with Taiwan in this important area. Taiwan's plans to transform a number of cities into low carbon economies offer enormous business opportunities. The global industry in low carbon and environmental goods and services is already estimated to be worth up to £3.2 trillion (approx. NT$150trillion) a year. Britain's own share of this is valued at up to £112 billion (approx. NT$5.35 trillion). Nearly a million British people are already employed in the sector, which continued to grow even during the global financial crisis."
Nine UK companies were invited to demonstrate their expertise at the seminar. In addition, Mr Baron Frankal, New Economy Director of Economic Strategy Association of Greater Manchester Authorities, shared his experience of how local public sector bodies invested in green growth and how they worked with private and public sector partners to understand, influence, and innovate to create a better economy. Topics included sustainable transport solutions, a sustainable design approach for commercial architecture, how to deliver radical low-energy performance by design and energy reduction strategies for sustainable buildings.
In 2007, the UK Government committed to build ten eco-towns, and selected Manchester, Leeds and Bristol as pilots. The UK is legally committed to halving greenhouse gas emissions, on 1990 levels, by the mid-2020s. By 2016, all new UK homes will be built to a zero carbon standard. In addition, approximately 25 million existing UK homes will be retrofitted to be more energy efficient by the end of 2050. Taiwan has announced its pilot low carbon projects programme with a total estimated investment value of £1.2 billion (approx. NT$56.4 billion) as part of its objective to establish a low carbon economy. The EPA plans to allocate a budget of £600 million (approx. NT$ 28.2 billion) to develop four pilot low carbon cities by 2017. The four cities are New Taipei City, Yilan County, Taichung City and Tainan City. The ultimate goal is to form four low carbon living zones by 2020 and 16 low carbon cities by 2050.
In addition to the four cities, Penghu and Kinmen islands are included in the Taiwanese low carbon project. Kinmen's projects have recently been approved by the central authorities with a total budget of £100 million (approx. NT$4.7 billion) to implement low carbon initiatives for the next five years.
Speakers' presentations can be downloaded from here.
Published 30 September 2013
Last updated 9 October 2013
+ show all updates
add more information
First published.