World news story
UK and Macedonia: continuing good bilateral relations
This was published under the 2010 to 2015 Conservative and Liberal Democrat coalition government
Speech by Ambassador Charles Garrett at the credentials ceremony with President of the Republic of Macedonia Dr Gjorgje Ivanov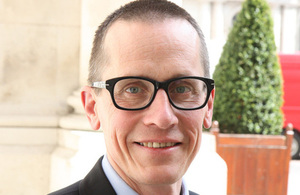 Your Excellency,
It is with great pleasure that I stand before you today to present my credentials as Her Majesty's Ambassador to the Republic of Macedonia. May I introduce to you my colleagues, Deputy Head of Mission, Mrs Christine Winterburn and our Defence Attaché Lt Col Richard Parry. I should also like to convey the good wishes of Her Majesty The Queen to you and the people of the Republic of Macedonia.
Mr President,
The United Kingdom has been longstanding and friendly supporter of the Republic of Macedonia and a solid supporter of your ambitions to join the European Union and NATO. Today I renew that commitment and assure you of our support. I look forward to seeing the Republic of Macedonia within the Euro-Atlantic family of nations.
The Republic of Macedonia's commitment and contribution to supporting international security and peace-building is well known. I would like to take this opportunity to express appreciation for Macedonia's ongoing participation in NATO, EU and UN led operations overseas, and your commitment to continue. The participation in peace keeping operations, such as those in Afghanistan, Bosnia and Lebanon, provide tangible evidence of Macedonia's commitment to global security.
We are pleased to see Macedonia elected to the United Nations Human Rights Council (2014-2016) and your active participation in global issues of human rights. This participation is a declaration for commitment to human rights, an area in which I hope we will work together with devotion.
We will continue to support you in your work on the implementation of the Ohrid Framework Agreement as it goes through its second decade. And I hope to be able to highlight further progress achieved in building multi-ethnic democracy as a foundation for a secure and successful future.
The UK stands ready to continue to provide support to help Macedonia in mainstreaming diversity and multiculturalism as it progresses on its road of euro-atlantic integration.
Your Excellency,
I feel privileged to have the opportunity to represent the United Kingdom in the Republic of Macedonia. I will work to integrate the British government's strategic priorities into our bilateral relationship, focusing on promoting British business interests and delivering enhanced prospects for mutual and sustainable growth.
I will also work to ensure that the European Union's enlargement perspective continues to act as a positive driver for change and reform in Macedonia, thereby reinforcing regional prosperity, security and stability.
Your Excellency,
I am grateful to you for accepting me as Her Majesty's Ambassador to the Republic of Macedonia. Thank you.