World news story
UK and Lao universities sign MOU on forestry co-operation
This was published under the 2010 to 2015 Conservative and Liberal Democrat coalition government
University of Wolverhampton signed a MOU with National University of Laos on delivery of practical sustainable forestry management training.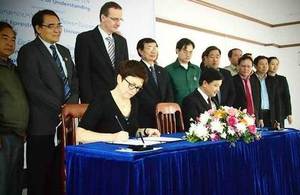 The Centre for International Development and Training (CIDT) at Wolverhampton University and the Lao National University (NUOL) Faculty of Forestry (FOF) have agreed to work together to deliver forest governance and timber trade legalisation capacity development in the Lao PDR. The Memorandum of Understanding (MOU) marks an important next step in a decade-long partnership between the two universities in knowledge exchange and capacity building. A range of Lao alumni from the University of Wolverhampton already occupy senior positions in the field in Laos. The MOU paves the way for curriculum innovations in practical forestry management to be offered within Lao PDR. This agreement also hopes to boost NUOL's position as a regional centre of expertise on sustainable forestry management.
Wolverhampton University's Centre for International Development and Training has a solid track record of supporting universities to strengthen their curricula, and is renowned for the delivery of high quality courses in Continuing Professional Development to mid-level and senior practitioners and managers, particularly in Improving Forest Governance.
CIDT will support the NUOL's Faculty of Forestry in adapting the training to the Lao context. At NUOL's DongDok University campus, the MOU was signed by Associate Professor Dr Houngphet Chanthavong and CIDT Senior Lecturer Sarah Thomas and witnessed by British Ambassador to the Lao PDR, Philip Malone. The President to NUOL, the Head of the International Relations Office and representatives from the department of Higher Education and External Relations at the Ministry of Education and Sports (MOES) were also in attendance.
The MOU signing ceremony was preceded by a three-day regional conference in Vang Vieng on Curriculum Development and Continuing Professional Development relating to improved Forest Governance, convening forest governance specialists from Thailand, Vietnam, Myanmar and Cambodia to discuss how best to update teaching content to address recent policy changes that affect forest governance and trade in South-east Asia.
Ambassador Philip Malone said:
The British Embassy is delighted to have facilitated exchanges between the University of Wolverhampton and the National University of Laos this year in order to pave the way for today's agreement. Wolverhampton University today becomes the first British university to sign a co-operation agreement with Laos. We hope to further expand education links between UK and Lao institutions in the future.
Martin Hollands, CIDT Associate in Conservation Policy and Practice underlined the importance of this cooperation:
We have been working hard with the Lao Faculty of Forestry to get to this point. I am particularly happy we will be able to involve Lao civil society in the delivery of this training.
Sarah Thomas said:
CIDT is delighted to be able to build on the impact that our Lao alumni are already having in relation to improved forest governance by developing this partnership with the Faculty of Forestry. Through the partnership, we hope to support education providers in Laos to respond effectively to the fast-changing needs of the forestry sector.
Further information
Follow the British Embassy Vientiane on facebook
Follow the British Embassy Vientiane on twitter @ukinlaos
Document information
Published: 15 January 2014