World news story
UK and Lao universities sign collaboration agreement
National University of Laos and Aston University sign five year intercollegiate cooperation agreement to promote bilateral education links.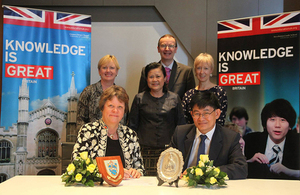 Marking the first ever university-to-university signing between the UK and Laos, the National University of Laos (NUOL) and Aston University recently signed a 5-year Memorandum of Understanding to promote potential future collaboration.
The signing of the agreement took place in Danang, Vietnam last week as signatories Dr. Phout Simmalavong, Vice President of the NUOL and Professor Dame Julia King, Vice-Chancellor for Aston University both attended the launching ceremony for the first phase of the Vietnam – UK Institute for Research and Executive Education (VN-UK IREE).
The VN-UK Institute is an academic collaboration between Aston University and the University of Danang and the first phase of the VN-UK University project implemented under a bilateral agreement between the Vietnamese and UK governments.
The British Ambassador to the Lao PDR, Philip Malone was also in attendance at the launching ceremony in Danang. With Vietnam remaining a popular destination for Lao students, the British Embassy in Laos hopes to encourage future triangular cooperation between the three universities - Aston, Danang and the NUOL.
Aston University is one of several British universities establishing physical presences in the ASEAN region in order to take advantage of the growing education markets and interest in a British education in South-east Asia.
Published 6 October 2014