World news story
UK and Kyrgyzstan increase military cooperation
UK-Kyrgyzstan Defence Staff Talks in Bishkek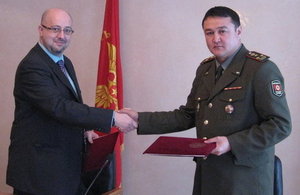 Annual working-level UK-Kyrgyzstan Defence Staff Talks took place in Bishkek on 20 November.
UK and Kyrgyz Defence Ministry representatives agreed nine activities for next year. They include English language training and courses in the UK and at the British Military Advisory Training Team in the Czech Republic. In May 2014, for the first time in over 10 years, a cadet from the Kyrgyz Armed Forces will attend the year-long young officer training at the Royal Military Academy at Sandhurst in the UK. The cadet will take a 10 week English language course before the officer training.
The Military Cooperation Plan was signed for the UK by Mr Derek Sturge, and for Kyrgyzstan by Colonel Ruslanbek Imanov, Deputy Head of International Cooperation at the Kyrgyz Defence Ministry.
Published 28 November 2013