World news story
UK and Kyrgyzstan: Criminal Justice Dialoguе - sharing ideas on policing
Senior British police officer visits Bishkek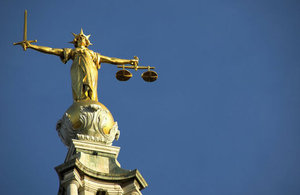 British Embassy Bishkek is continuing the "Criminal Justice Dialogue" project with the visit by a British policing expert to exchange information and ideas on how to conduct policing and gathering criminal evidence in accordance with international human rights standards.
Mark Smith, Detective Superintendent, College of Policing International Advisor at International Academy Bramshill will visit Bishkek. The IAB supports the development of professional and accountable policing throughout the world by delivering effective learning and training assistance in the fields of operational policing and police leadership. The Academy is at the forefront of UK and international efforts to enhance and improve the role of policing in delivering citizen safety and security, with work focused on the ongoing professional and personal development of police leaders and teams from around the globe, principally through its leadership programmes.
The centrepiece of Detective Superintendent Smith's visit will be a seminar on contemporary UK approaches to policing for an audience of representatives from Kyrgyz institutions with an interest in criminal justice matters. Detective Superintendent Smith will spend a day with Ministry of Interior representatives to develop an understanding of how Kyrgyz law enforcement agencies operate. He will have a series of meetings with Kyrgyz senior officials to learn about current criminal justice sector reform in Kyrgyzstan, and with representatives of international organisations working to support those reforms. The seminar, entitled "UK's Best Practice in Policing and Criminal Evidence", will be held at the Academy of Ministry of Internal Affairs on 12 December 2013. The main purpose of the seminar is to familiarise participants with current UK policing practice in arresting suspects, criminal evidence gathering, and submitting evidence to court. Detective Superintendent Smith will focus his presentation on the 1984 UK Policing and Criminal Evidence Act, which was developed to ensure police compliance with the UK's domestic and international human rights commitments.
The British Embassy in Bishkek is organising the seminar in partnership with the Kyrgyz government, under the auspices of Vice Prime Minister for Defence and Security Tokon Mamytov. Guests will include actors in the Kyrgyz criminal justice system, including the Ministry of Internal Affairs, the Prosecutor General's office, the Supreme Court, the State Committee on National Security, the Academy of the Interior Ministry and members of Parliament working on issues of law and order.
The British Embassy's "Criminal Justice Dialogue" project is designed to support the Kyrgyz government's efforts towards strengthening the rule of law in Kyrgyzstan. The project consists of a series of information exchanges and fact-finding visits between senior representatives of the British and Kyrgyz criminal justice systems. In June 2013, representatives of the British Crown Prosecution Service visited Bishkek to talk to their Kyrgyz counterparts and last month Ben Morgan, Head of Bribery and Corruption Unit at the UK Serious Fraud Office, visited Bishkek to participate in the British Embassy's seminar on the 2010 UK Bribery Act. Plans for next year include a reciprocal visit to the UK for senior representatives of a range of Kyrgyz institutions involved in criminal justice reform to learn more about how the UK criminal justice system functions
Published 9 December 2013