World news story
UK and Kyrgyz government and businesses discuss anti-corruption
A "Combatting Corruption: the experience of the UK and Kyrgyz Republic" seminar took place in Bishkek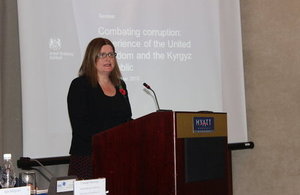 A seminar on "Combatting Corruption: the experience of the UK and Kyrgyz Republic" took place at the Hyatt Regency hotel on 11 November. First Vice Prime Minister Djoomart Otorbaev and Minister of Economy Temir Sariev updated the audience on Kyrgyz government initiatives – and achievements – in combating corruption. Ben Morgan, Head of Bribery and Corruption unit at the Serious Fraud Office, and Stuart Miller of "Miller and Rosenfalck – the European Business Lawyers" shared the view from the UK.
In her opening speech, Her Majesty's Ambassador Judith Farnworth welcomed the clear political commitment to tackling corruption in Kyrgyzstan. She also highlighted the global reach of UK anti-bribery legislation:
One of the key messages we will hear today is that… the scope of the Bribery Act is wide. It affects not only business done in the UK, but also business done by UK companies anywhere in the world. The effect of this legislation on the way British companies conduct themselves is profound, not least because there is now the very real prospect of Directors based in London going to jail for bribes paid by an agent of their company abroad… That has a knack of concentrating their minds.
It means British companies, and those from other jurisdictions with similar rules, will be extremely cautious about investing into jurisdictions where there is a risk of corruption. That can mean corruption at corporate level, or at state level – both have the potential to put off external investment. For countries such as the Kyrgyz Republic which are keen to attract inward investment, this is crucially important.
Ben Morgan of the Serious Fraud Office talked about what the UK government has done to try to improve the way corruption is tackled, as well as about the financial and moral impact if corruption is not dealt with on all levels by all stakeholders.
Stuart Miller of "Miller and Rosenfalck" presented the new UK Bribery Act 2010 and considered in detail its main provisions, focusing on the typology of bribes, prevention strategies, as well as responsibilities set out in the Act.
The seminar was attended by more than 100 representatives of Kyrgyz government, business, expert and the international communities of Kyrgyzstan. Following the presentations, participants of the seminar raised challenging, but important questions about fighting corruption inside the Kyrgyz government and the applicability of the British experience in Kyrgyzstan.
Published 13 November 2013