World news story
UK and Indonesia Funds Biodiversity Research in Wallacea Region
The UK Newton Fund & the Indonesian Ministry of Research, Technology and Higher Education (Ristekdikti) announced funding to support collaborative research proposals.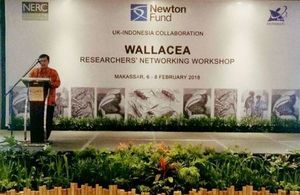 Makassar, 7 February 2018 – The UK Newton Fund & the Indonesian Ministry of Research, Technology and Higher Education (Ristekdikti) announced today up to £4.1 million of joint funding to support UK-Indonesia collaborative research proposals looking at biodiversity in the Wallacea region, the area area spanning west of Bali and east of Papua.
Through the Newton Fund partnership, Ristekdikti and UK Natural Environment Research Council (NERC) will fund 4 to 5 excellent collaborative research proposals for the next three years.
NERC and Ristekdikti are developing this programme to explore biodiversity of the Wallacea region. Through this they hope to understand tensions in land use and the adaptation of biodiversity in response to environmental change. The programme will support effective management, restoration, rehabilitation and exploitation of the region and its biodiversity.
Ristekdikti Director General for Research & Development, Dr Muhammad Dimyati said:
Wallacea which includes Sulawesi, Maluku, East & West Nusa Tenggara, is one of the world's most ecologically diverse area in the world. It is important to have a better understanding of its potential, not only for Indonesia, but also for the world.
British Ambassador to Indonesia, Moazzam Malik said:
Science is one of the key tools that Indonesia can use to address its development challenges. Through the Newton Fund programme and specifically the Wallacea activity, the UK government joins hands with Ristekdikti to support the use of science for development which respects Indonesia's unique and valuable biodiversity. This activity builds on the Legacy of Alfred Russell Wallace the renowned British naturalist who spent three years in Indonesia in the 1860s.
Following the announcement, NERC and Ristekdikti convene around 40 researchers from UK and Indonesia to explore ideas for joint research collaboration at a workshop in Makassar, 6-8 February.
The NERC Ristekdikti Wallacea call for proposals is part of a wider portfolio of UK-Indonesia science and cultural collaboration to highlight and understand Indonesia's biodiversity as part of a celebration of British Naturalist Alfred Russell Wallace's work in the region.
NOTES TO THE EDITORS:
The Newton Fund builds research and innovation partnerships with 18 partner countries to support their economic development and social welfare, and to develop their research and innovation capacity for long-term sustainable growth.
It has a total UK Government investment of £735 million up until 2021, with matched resources from the partner countries.
The Newton Fund is managed by the UK Department for Business, Energy and Industrial Strategy (BEIS), and delivered through 15 UK delivery partners, including the Natural Environment Research Council leading on the Wallacea programme.
In Indonesia, the partnership was rebranded as Newton UK-Indonesia Science & Technology Fund in March 2016.
Newton Fund partnership with Ristekdikti is part of a wider activity which will last until 2021 with a total UK investment of up to GBP 18 million (Rp 324 billion) combined with matching investment of up to GBP 8.3 million (Rp 149 billion) from the Indonesian government.
For further details please contact British Embassy Jakarta's Science and Innovation Program officer, Anissa Febrina +62(0) 852 1667 7326
Published 9 February 2018