World news story
UK Ambassador launches Jaguar Cars in Laos
Ambassador Malone gives keynote speech at the Jaguar Cars Official Launch Reception in Vientiane.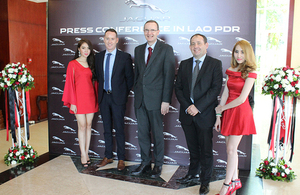 Jaguar Cars leapt onto the automotive market in Laos this week with the official launch by RMA Group held at the Don Chan Palace in Vientiane on Friday 27 February.
Represented in Laos by RMA Group trading as Lao Land Rover, Jaguar is one of the UK's most iconic and respected car brands with a proud heritage of producing the world's most elegant sports cars as well as multiple successes in major motor racing competitions. Founded over 90 years ago, Jaguar is the UK's largest automotive manufacturer, employing over 24,000 people at their state-of-the-art design and engineering facilities and manufacturing site.
During the event, Ambassador Philip Malone said:
Jaguar is an excellent example of the UK's manufacturing prowess. Britain has a long tradition of manufacturing dating back to the beginning of the industrial revolution and despite what some may think, the UK continues to excel in areas such as advanced manufacturing (aerospace, automotive, chemicals, energy), infrastructure, healthcare and life sciences and defence and security equipment. Britain has one of the most productive automotive sectors in Europe and is the world's second largest premium car producer.

Manufacturing remains right at the heart of the British economy. It creates innovative and high quality products exported around the world and accounts for more than half of UK exports and 10% of GDP. So the UK's manufacturing sector is thriving and is playing a major role in the UK's economic growth. Jaguar and its sister company Land Rover are a key part of this growth and success.
For more information on Jaguar in Laos, please visit their Facebook page.
Published 27 February 2015