World news story
UK aid for earthquake-affected school in Tanzania
British High Commissioner and Head of DFID Tanzania join President John Pombe Magufuli to lay foundation stone of earthquake-affected school in northern Tanzania.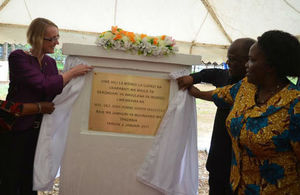 British High Commissioner Sarah Cooke and Head of DFID Tanzania, Vel Gnanendran kicked off 2017 by joining Tanzania's President Magufuli on New Year's Day to lay the foundation stone for the rebuilding of a school in Bukoba, northern Tanzania, that was hit by an earthquake last September.
Funding for the rebuilding of Ihungo Secondary School has come from UKAid/DFID's education programme.
Ihungo Secondary School was hit by a 5.9 magnitude on September 10 forcing students to transfer to other schools.
Speaking at the event, the High Commissioner said:
When the earthquake struck the region in September, I know that many suffered extreme hardship. Just four months later, it is good to see normal life resuming and I want to commend the government, and the regional administration, for their efforts.

For me, this event is a reflection of the strong and broad partnership between the United Kingdom and Tanzania. We are proud of our long-standing and deep trade, security and people-to-people links that bring real benefits to both countries.

The UK is already the largest investor in Tanzania and we are one of the largest donors. We strongly support your desire for industrialisation. We want to help Tanzania achieve its vision of becoming a Middle Income Country by 2025.

Investing in education underpins both of these priorities. Your policy of free education has seen enrollment rates increase by 40%. The fact that so many more children are now in school is a testament both to your initiative and all the parents who want to see a better future for their children.

Your priority to deliver free quality education for all is also our priority.

The UK is one of the largest donors to education. Our support to education over the 4 years from 2014 to 2018 will be at least 270 billion shillings. This has already helped train 35,000 teachers, raise standards in over 4000 schools and improve the capacity of over 51 local governments in planning and financial management.

Beyond financing, we are forging partnerships between British and Tanzanian schools; supporting young Tanzanians to pursue higher education in the UK; and using volunteer programmes to foster lifelong friendships between committed Tanzanian and British students.

This is all part of our wider goal, to work with the government and people of Tanzania, in creating opportunities for young people.

That is why, when the earthquake devastated this iconic school, we were absolutely determined to show our support.

The UK has committed just over 6 billion shillings to help rebuild this school. We have already released 30% of that funding and will shortly release more. So I am really pleased to be able to see first-hand the impact of those funds.

It is particularly impressive to see the speed at which the work here has progressed since that visit. Let me commend the TPDF and the Tanzania Building Agency for their work. I share our collective hope that the Form 6 students will be able to sit their exams in new classrooms by June. That would be a truly great result. Hapa kazi tu.

I should also say, as a woman, that we are not just supporting the boys. We are also supporting Rugambwa girls school, just up the road. Another iconic school.

When we embarked on this partnership to rebuild these schools, we all agreed that we didn't want just to build back. We wanted to build back better. So I'm delighted that we have been able to provide advice on ensuring Ihungo will be resilient to future earthquakes, able to take more students and be equipped to the highest standards, especially in science.
Published 17 January 2017