World news story
UK aid allows Syrian refugees to meet most urgent survival needs
The programme, in partnership with the World Food Programme, provides severely vulnerable families an allowance to buy essential items for their families.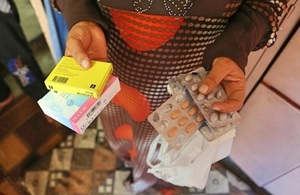 International Development Secretary Penny Mordaunt announced a ground-breaking package of support for people driven from their homes as a result of the conflict in Syria, which is now entering its eighth year.
The programme, delivered in partnership with the UN's World Food Programme, will provide more than 10,000 severely vulnerable families with an allowance so that they can buy essential items such as food, household supplies and vital medicine for their families. With an estimated 76% of Syrian refugees living below the poverty line, this support will ensure families have the resources they need to survive and will aim to help prevent families taking desperate measures such as skipping meals or forcing their children to work.
This bold new approach will empower the people that rely on UK support to make choices about what they need, whilst also ensuring that aid is delivered more efficiently. It will use the latest retina scanning technology, coupled with up to date Lebanese banking facilities, to eliminate fraud and make sure UK aid goes only to those who need it the most.
International Development Secretary Penny Mordaunt said:
In 2017, through UK aid and further public donations, Britain provided a vital lifeline to people suffering from the relentless violence in Syria. As we enter the eighth year of this deadly conflict, we continue to stand by the people of Syria to help them rebuild their lives, giving them hope and a chance for a future.

Our support is providing families living in Lebanon with an allowance to buy the essential items that they cannot live without. This is helping to stamp out child labour and give refugees the dignity they deserve.
Welcoming the announcement British Ambassador to Lebanon Hugo Shorter said:
As the conflict enters its eighth year, providing aid to refugees fleeing from the Syria conflict has been at the heart of UK aid. The programme delivered by the UN's World Food Programme will help families meet some of their most urgent needs. The UK will continue to support Lebanon in coping with the refugee crisis until it is safe for them to return home.
Fadwa, a Syrian mother who lives in the corner of a Beirut car park with her husband and seven children, is benefitting from the UK aid-backed programme. Following the announcement, she said:
It's our only income so being able to choose how to spend it is important as we need different things from one month to the next. The children were excited because they thought it meant we would buy toys, but I told them it's money for survival.

Before, we were borrowing money every time we needed to fix something in the house, or even to buy medicine. We are also treated differently now. People don't look at us like 'Syrians living off aid' because they see us as being self-sufficient -  buying food with cash.
The UK continues to be by Lebanon's side with action and not just words. In addition to our significant and lifesaving humanitarian assistance, we have provided textbooks for every child aged 6-15 years, and provided financial and technical support to the Lebanese Ministry of Education and Higher Education. Total UK assistance to education for the next four years from 2016-2020 is at £160 million. Across the whole of Lebanon we are supporting Lebanese host communities coping with the weight of the refugee crisis, partnering with over 270 municipalities.
The UK has invested over £90 million in security since 2011 supporting the Lebanese Armed Forces and Internal Security Forces. And for the last three years we have supported the UK-Lebanon Tech Hub, SoUK.LB - Social Enterprise Hub in Lebanon and Intaj targeting economic opportunities in the Bekaa and North Lebanon for Lebanon's prosperity. All this demonstrates that the UK will remain a strong partner to Lebanon in the years ahead.
Notes to Editors 1. Lebanon is the second largest recipient of UK aid in the Middle East and it continues to be a vital ally in delivering humanitarian support to people acutely affected by the Syria crisis. We have committed £628 million to programmes in Lebanon since 2011. 2. This £79 million UK aid package is an allocation from the Department for International Development's (DFID) existing humanitarian budget for the Syria crisis and the programme, delivered in partnership with the UN's World Food Programme. 3. Read more about Fadwa's story on the WFP website
Published 22 March 2018
Last updated 22 March 2018
+ show all updates
Added translation
Added translation