World news story
UK Additive Manufacturing Mission to Taiwan
This was published under the 2010 to 2015 Conservative and Liberal Democrat coalition government
UK Additive Manufacturing Mission to Taiwan to enhance collaboration with Additive Manufacturing Association of Taiwan (AMAT)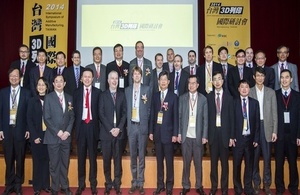 With 3D printing continuing its momentum as a media buzz word the world over, Taiwan - supplier to the world with IT and consumer electronics - is set to welcome leading international experts on this disruptive technology to address emerging business opportunities. The UK sees Taiwan as an important partner, with the Additive Manufacturing Mission to Taiwan visiting Taipei and Tainan this week. The objectives of this Mission are to enhance business and research collaborations, and to build supply chain relationships essential to the industry's global growth.
Organised by the British Trade & Cultural Office (BTCO), Additive Manufacturing Association of Taiwan (AMAT) and National Taiwan University of Science and Technology (NTUST), the 1st Additive Manufacturing and 3D Printing International Conference was held at NTUST in Taipei on 3 March 2014. This conference convened international academic representatives and AM vendors together to present the most up-to-date technology, application and market trends. The UK Additive Manufacturing Mission of 5 academic and industrial speaking delegates includes a technical representative from Renishaw UK - a major global AM vendor.
Chris Wood, Director of BTCO said at the conference, "the UK is one of the world's leading sources of AM knowledge and research activity today. We have seen how Taiwan has been able to add value and take a leadership role in the global manufacturing and supply chain, from semiconductors to precision machinery. We are confident Taiwan has a key role to play as we transition to the "digital manufacturing" paradigm of the future. This is the reason why we have convened a group of leading UK experts here."
Professor JENG Jeng-Ywan, Dean of the School of Engineering of NTUST, also pointed out that it is high time Taiwan had her own discipline-specific association for the critically important additive manufacturing industry to optimize synergy and more effectively urge the government to take concrete action for Taiwan to maintain her competitive edge when it comes to manufacturing and social fabrication in the digital era.
In addition to the conference on 3 March at the NTUST, a Day-2 forum that showcases best commercial practices aimed at bridging executives of all walks of life, young startups, and local investment bankers is also held today.
Furthermore, the UK AM mission will visit the South Campus of Industrial Technology Research Institute (ITRI) in Tainan, for technical exchanges to explore industrial-grade research and business collaboration opportunities focusing on laser sintering and metal technologies.