World news story
UAE holds big celebrations for the 89th birthday of Her Majesty Queen Elizabeth II
Queen's Birthday celebrations at the British Embassies in Dubai and Abu Dhabi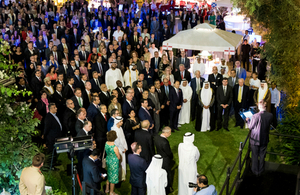 The British Embassies in Abu Dhabi and Dubai held big celebrations for the 89th birthday of Her Majesty Queen Elizabeth II this week. Several hundred guests attended each reception. They were hosted by Philip Parham, British Ambassador to the UAE, in Abu Dhabi; and Edward Hobart, British Consul-General, in Dubai.
The guests of honour were His Highness Sheikh Nahyan bin Mubarak Al Nahyan, UAE Minister of Culture, Youth and Community Development, in Abu Dhabi; and His Excellency Hussain bin Ibrahim Al Hammadi, UAE Minister of Education, in Dubai.
Other guests included senior government figures, diplomats, business people and some of the leaders of the 120,000-strong British community in the UAE.
In a novel touch at the Dubai reception, the Emirati and British National Anthems were sung (in Arabic and English respectively) by children of Embassy staff, including two of the Consul General's children. The band of the Royal Marines provided live music at both events.
The celebrations were sponsored by Aston Martin and Barclays in Dubai; and by Molton Brown, Atkins, BP and Shell in Abu Dhabi. Several iconic Aston Martin cars, both new and historic models, were parked around the lawn of the British Embassy in Dubai, adding a touch of very British style.
In his speech at the Abu Dhabi event, Philip Parham spoke about his pride in Queen Elizabeth's remarkable record of service during 63 years on the throne, about the contributions of the United Kingdom and British people to the UAE, and about the United Kingdom's role in regional security – including the continuous presence of the Royal Navy in the Gulf over the last 35 years, and the British Armed Forces' major part in the coalition against Da'esh.
Speaking about the celebrations, Her Majesty's Ambassador said:
It is a true pleasure to be in the company of so many valued friends and colleagues to celebrate the birthday of Her Majesty Queen Elizabeth II. These celebrations are an opportunity to thank some of those who work so hard and so creatively to take the deeply rooted UK-UAE partnership from strength to strength.
Media contact
Sam Kelly – Political and Media Officer
British Embassy, Dubai
Tel: +971 (0)50 624 9536
Notes to editors
Her Majesty Queen Elizabeth II celebrates two birthdays each year. Her actual birthday is on 21 April, and her official birthday is on a Saturday in June.
Published 23 April 2015