Press release
Tyne and Wear scrap metal firm fined £3,000 over disruptive air pollution
Emission of chemical fumes affected residents and businesses in Swalwell 2 years ago.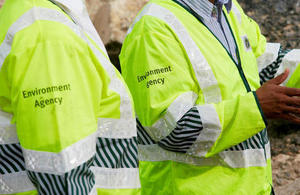 A Tyne and Wear metals recycling company has been fined £3,000 over an air pollution incident that caused disruption to residents and businesses in Swalwell.
J&J Stanley Ltd was sentenced by Newcastle Magistrates on 29 April following an emission of chemical fumes from its site on Longrigg Road, Swalwell, 2 years ago.
On the evening of 26 April 2012, the police and fire brigade received reports of a strong chemical smell in the area. The odour was so strong that the police closed nearby roads to vehicles and pedestrians, and they also visited local residents to advise them to keep windows and doors shut.
Chris Bunting, prosecuting for the Environment Agency, told the court that Tyne and Wear Fire and Rescue Service attended the scene with six pumping appliances and specialist incident support units.
Complaints came in from a local pub, where people could no longer sit outdoors, and a takeaway business was advised to close for the evening.
The Environment Agency tracked the source of the smell to a 10-tonne pile of aluminium waste, a recyclable residue known as dross, which had been deposited in the company's yard.
When investigating officers visited the site, they could smell a chemical odour in the air, and a fizzing sound was heard, indicating that a chemical reaction was taking place in the aluminium waste pile.
The waste pile had been left uncovered and exposed to rainfall, which may have started the reaction.
Some of the material had been moved into a covered storage skip to contain the smell, and when the cover was pulled back for an inspection, the fumes caused an officer's eyes to immediately water.
In court, J&J Stanley Ltd admitted an offence of depositing controlled waste in a manner likely to cause pollution or harm to human health.
Sophie Webster, environment management team leader at the Environment Agency, said after the case:
The chemical odour that the Swalwell community experienced in April 2012 was strong and unpleasant. The emission of the fumes affected residents and businesses, and the emergency services spent valuable time and effort responding to the incident to ensure that people were not put at risk.

J&J Stanely's poor handling of its waste aluminium was the cause of the pollution, and as such this incident could have been avoided, had appropriate procedures been followed.

The fine imposed by the court demonstrates the seriousness of environmental offences. Industrial operations of this nature can pose a risk to the environment and local communities if they are not properly managed – that's why it is vital that companies work within the rules.
In addition to the fine, J&J Stanley Ltd was ordered to pay £3,015.10 in costs and a victim surcharge of £120.
Published 30 April 2014