Press release
Two men prosecuted for illegal fishing in Kendal, Cumbria
The men have been found guilty of illegal fishing in a prohibited area on the River Kent and fined over £1,300.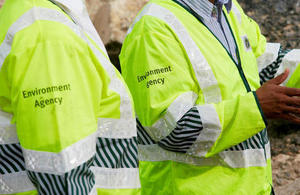 Simon Lenihan of Burland Grove, Kendal, and Thomas Eland of Wildman Street, Kendal, were caught fishing with a rod and line from Busher Walk, River Kent, Kendal, by an Environment Agency water bailiff. It was noticed that they were using lures. In this location anglers are not permitted to use lures or any weighted device because there is a byelaw in place to protect fish that are vulnerable to capture by foul hooking. There are 2 information signs at this location advising anglers of this. Mr Lenihan and Mr Eland both stated they had not read the signs. In addition to this Mr Lenihan was also found to be fishing without a valid rod licence.
Lee Preston, from the Environment Agency said:
This prosecution should act as a warning to anglers who think it's ok to fish without a licence and in a way that harms fish stocks for other anglers. Fish, including migrating salmon, in this location of the River Kent are protected because if a fish gets 'foul hooked' with weighted hooks or lures this can cause physical damage and distress. 'Foul hooking' also can result in reduced mobility to migrate up river, secondary infection, and often death of the fish.
We work with the police, fishery owners and others to detect, deter and enforce against illegal fishing. The money generated by rod licence sales is ploughed back in to protecting fish stocks and improving the local environment. At only £27 for a non migratory licence, £72 for a migratory licence, and £5 for under 16s, it is an affordable hobby that can be enjoyed by the whole family.
Simon Lenihan was fined £400 for fishing without a licence and £100 for fishing in prohibited area. Costs of £127 and victim surcharge of £40. Total = £667.00
Thomas Eland was fined £500 for fishing in prohibited area, costs of £127 and victim surcharge of £50. Total = £677.00
Further information about rod licences can be found on the GOV.UK fishing pages. To report illegal fishing call the Environment Agency's 24 hour, free phone, incident hotline on 0800 80 70 60.
Published 4 February 2015