Two Jamaicans and one Bahamian awarded Chevening Scholarships to study in the UK
Two Jamaicans and one Bahamian have been awarded the 2012-2013 Chevening Scholarships to study in the UK.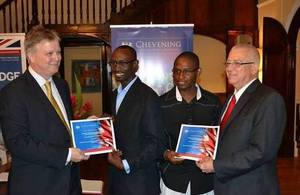 The Jamaican awardees are Edgar Bennet and Garcia Kelly. While the Bahamian is Glenn McPhee.
Chevening Scholarships are the UK government's global scholarship programme, funded by the Foreign and Commonwealth Office (FCO). The scholarship programme makes awards to outstanding scholars with leadership potential from around the world to study postgraduate courses at universities in the United Kingdom.
Edgar Bennett
Edgar Bennett is a Certified Internal Auditor (CIA), Certified Information Systems Auditor (CISA) and an Affiliate of the Association of Chartered Certified Accountants (ACCA). He holds a Bachelor of Science degree in Economics and Accounting from the University of the West Indies.
Edgar began his auditing career at PricewaterhouseCoopers, Kingston before going on to fulfil his lifetime dream of teaching at his alma mater, Munro College. While there, he served as Boarding Housemaster, Mathematics and Business Studies Teacher. He returned to the corporate world and was employed as a Senior Group Internal Auditor at Lascelles deMercado & Company Limited, now a Gruppo Campari Company.
Edgar's ultimate goal is to become a Strategic Forensic Consultant and University Professor. He will pursue a Master of Science degree in Forensic Audit & Accounting at the University of South Wales. The Chevening Scholarship will enable him to obtain the requisite knowledge and develop the analytical and investigative skills needed to achieve his personal goals and assist in the fight against crime in Jamaica.
Garcia Kelly
Garcia is an Attorney-at-Law. He will be pursuing a Masters of Law degree in International Business Law at the Queen Mary University of London with a particular focus on: Law of Economic Crime, Regulation of Financial Markets and International Construction Contracts and Arbitration. As a Crown Counsel in the Office of the Director of Public Prosecutions, Garcia looks forward to returning to Jamaica at the end of his studies to assist in eradicating of the lottery scam.
Glenn McPhee
Glenn McPhee enlisted in the Royal Bahamas Defence Force on 20 August 1990. He has served in the Military Operations Platoon, Squadron Department, Training Department, and is currently seconded to the National Intelligence Agency. In April 2002 he completed the Royal Navy Young Officer's Course, at Britannia Royal Naval College, Dartmouth, England. Upon his return, he was appointed to HMBS BAHAMAS where he served as Supply, Deck, and Boarding Officer. In July 2003, while the British Naval Ship, HMS IRON DUKE was on a goodwill visit to mark The Bahamas' 30th anniversary of Independence, McPhee was invited on-board to receive the prestigious Admiralty Binoculars, awarded as a result of his performance during his Naval training at Britannia Royal Naval College Dartmouth.
On 23 March 2005, Glenn McPhee was awarded a full scholarship from The Bahamas' Ministry of Foreign Affairs in conjunction with the Government of Mexico to study in Mexico City, Mexico.
Subsequently, he received a Bachelor of Arts degree in Public Administration in September 2008, and a Master of Arts degree in Administration with a concentration on Human Resource Management in July 2010, from La Universidad Del Valle de México, Campus San Rafael.
In November 2011, he published his first book, The Marine Recruit's Guide, a comprehensive reference guide for aspiring Royal Bahamas Defence Force personnel. This book is the first to be published relating to the thirty-three year old naval institution.
Glenn McPhee is joining the University of Buckingham's internationally renowned Security and Intelligence Programme in September 2013. At Buckingham he will be adding to his understanding of intelligence-led security activity and intelligence analysis and together with other selected students from all over the world (several of whom are already working in this field) will also consider current threats, including terrorism and cyber issues, and the strategies for addressing them.
Applying for Chevening Scholarship for 2013/14
The application period for scholarships to study from September 2014 is open from 1 September until 8 November 2013. Jamaicans and Bahamian are eligible to apply and should do so online at www.Chevening.org
Published 19 September 2013