World news story
Twenty-Third Session of the Universal Periodic Review, Geneva, 2 to 13 November 2015
The UK delivers its statement on the Universal Periodic Review of Australia, 9 November 2015.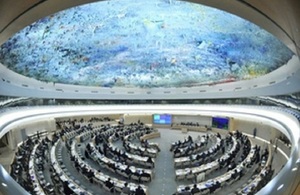 Thank you Mr President
The UK thanks the Australian Government for its national report.
The UK recommends that Australia:
Extend the mandate of the Joint Parliamentary Committee on Human Rights to include the domestic consideration and oversight of implementation of recommendations from UN human rights mechanisms.

Adopt national uniform legislation prohibiting, except where there is a serious threat to life or health, the sterilisation of children and of adults with disability, in the absence of prior, full informed and free consent.
We welcome the appointment of Australia's first Minister of Indigenous Heritage and encourage the Government to work with Indigenous communities to get children to school, adults into work, and build safe communities through their Indigenous Advancement Strategy.
We welcome the commitment of the Australian Government to adopt the recommendations in the Moss Review on the Regional Processing Centre in Nauru.
Thank you Mr President.
Published 9 November 2015