World news story
Twenty seven Filipinos awarded UK Chevening Scholarships – biggest ever batch from the Philippines
Twenty seven Filipinos have been awarded the prestigious Chevening Scholarships by the UK Government for the coming academic year.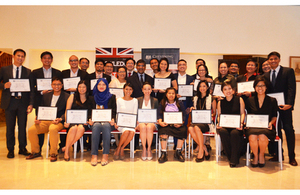 The scholars were recently honoured at a reception hosted by Ambassador Asif Ahmad at his residence on 25 August. The event was attended by the families of the scholars, members of the Chevening alumni network in the Philippines and scholarship co-sponsors, Bank of the Philippine Islands (BPI), GlaxoSmithKline Philippines (GSK), Megaworld Foundation and Shell Philippines Inc.
British Ambassador Asif Ahmad said:
I'm delighted to see so many Chevening Scholarships awarded in the Philippines this year. This is our biggest number ever so these future leaders are making history. Working with our partners, we are very fortunate to have been able to increase the number of scholarships this year, reflecting our strong commitment to a dynamic UK-Philippine relationship. And we plan to see this number increase next year. The application window for that is now open so I urge all potential future leaders with a dynamic vision for the future to seriously consider Chevening. Competition for scholarships remains intense, so my warm congratulations to our 27 successful scholars. I'm sure your time in the UK will help you develop your vision and plans and allow them to be put into effect when you return to the Philippines.
Ambassador Ahmad also thanked BPI, GSK, Megaworld and Shell for their support which has helped send the biggest batch of Filipino scholars to the UK.
The Chevening Scholars are: Ysmael Mangorsi, Maila Beniera, Maria Carmen Fernandez, Tasneem AbdulRauf, Asnin Pendatun, Maria Lourdes Gregorio, Edy Lynn Santiago, Julius Lotilla, Paul Zambrano, Ianela Carla Ortiz, Benedict Nisperos, Carizza Castelo, Anya Palileo, Micaela Papa, Asryman Rafanan, Raymond Astillas, Robert Siy, Aison Garcia, Rhio Fuentes-Nuylan, Margarita Villanueva, Miguel Dorotan, Carmela Fonbuena, Emilio Marañon III, Baby Ruth Villarama, Marc Cebreros, Irene Valones and Ivan Ledesma. They will pursue Masters degrees at different educational institutions in the UK in the fields of: finance and economics, law & human rights, trade, art & film, health and sciences, governance and peace & conflict studies.
Chevening Scholarships are awarded by the British Government to those who have a vision and drive to become future leaders in their chosen fields and countries. The scholarships were named after the Chevening House, the British Foreign Secretary's official country residence. Applications to Chevening Scholarships are ongoing; log on to www.chevening.org/apply for more information.
Notes to Editors:
Chevening Scholarships are the UK Government's global scholarship programme, funded by the Foreign and Commonwealth Office (FCO) and partner organisations. The scholarships support study at UK universities – mostly one year Master's degrees – for individuals with demonstrable potential to become future leaders, decision-makers, and opinion formers.Chevening began in 1983 and has developed into a prestigious international awards scheme. Chevening Scholars come from over 160 countries and territories worldwide (excluding the USA and the EU), and over 1,500 scholarships were awarded in 2015/2016. There are over 43,000 Chevening Alumni around the world who comprise an influential and highly regarded global network.
There are approximately 1,500 Chevening Awards globally on offer for the 2016/2017 academic cycle. These scholarships represent a significant investment from the UK Government to develop the next cohort of global leaders.
The name 'Chevening' comes from Chevening House in Sevenoaks, Kent – currently the joint official residence of the UK's Foreign Secretary.
More information is available at www.chevening.org
To qualify for a Chevening scholarship, the applicant must:
Be a Filipino citizen at the time of applying for the award, and intend to return to the Philippines at the end of the period of study.
Hold an undergraduate degree.
Demonstrate that the applicant has achieved the minimum Chevening English language requirement
Have completed at least two years' work or equivalent experience before applying.
Be able to obtain a visa and receive an unconditional offer from a UK university.
Three key points to remember when applying for a Chevening Scholarship:
In order to receive a Chevening Scholarship, all candidates must demonstrate that they have fulfilled the Chevening English language. Applicants are advised to take an English language test as early as possible, and well in advance of the deadline.

Applicants should find out all they can about UK universities and the availability of their chosen programme of study or research since facilities vary from one institution to another.
Published 27 August 2015