World news story
Transnational education: SQA qualifications offered in Greece
Knowledge is GREAT: Transnational education - Scottish Qualification Authority (SQA) offers important qualifications in Greece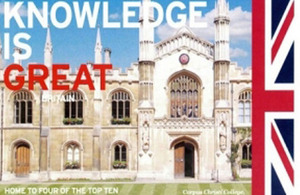 An event to celebrate a new collaboration between the Scottish Qualifications Authority and Aegean Omiros College the partnership took place at the British Residence on Monday 16 September and brought together Greek Government Ministers, academics, representatives of Greek business, media and alumni, all of whom referred to the benefits of transnational education.
In his address the British Ambassador, Mr John Kittmer, stressed:
Education is now a big global business – one of the UK's most important exports. The British educational system is fully geared up for a globalised business world, with curricula reflecting the demands of a fast-changing world economy.
British qualifications are recognised internationally and valued by employers throughout the world and British qualifications are increasingly offered beyond the shores of Britain, through transnational partnerships.
International co-operation and exchanges of best practice between UK and Greek organisations, as well as government bodies, can contribute positively to the building of the National Qualifications Framework in Greece and promote job mobility and quality education within the EU.
Mr Alistair Shaw, Head of International SQA said:
Aegean Omiros College is our first approved centre in Greece and has recently had 4 Customised Awards approved onto the SCQF at Masters level and we hope it is the start of a successful relationship with the College. Our portfolio of Customised awards is very successful in Scotland and internationally and allows customers to have their training programmes or individual qualifications approved onto the SCQF which gives their students an International recognition for their qualifications.
Notes for editors
The Scottish Qualifications Authority (SQA) is an international leader in education and training with over 100 years of experience in developing qualifications and qualification systems and over 20 years' experience of working internationally in partnership with governments, colleges, universities, schools and industry. Find out more about the Authority here.
Find out more about Aegean Omiros College
Published 19 September 2013
Last updated 20 September 2013
+ show all updates
Added translation
Added translation
First published.