News story
Transforming Europe's partnership with North Africa
European countries must "step up to the plate" to help North African countries such as Libya and Egypt achieve political reform.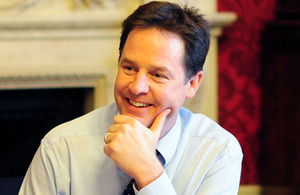 In a speech in Brussels, the Deputy PM said North African countries had created an "unexpected and game-changing turn of events" and called for a "game-changing" response to ensure greater freedom.
He set out why the European Union needs a radical rethink of its policy towards the region in the wake of the "bravery" of the popular uprisings.
Mr Clegg said the EU cannot afford to stay neutral, and used his speech at the UK's EU ambassador's residence to warn that monumental change in North Africa is as much a defining moment of the EU as for the region itself.
He said:
This is a precious moment of opportunity for the region. Precious because it is the people, especially the young people, who are speaking up, and they are doing so for the most part peacefully and with dignity.

They are showing that there is more to politics in the region than the choice between repression and extremism.

It is precious, but potentially fragile too. There is no certainty about the outcome. This is why Europe must play its part.
The Deputy PM's speech comes after sanctions were announced against Colonel Gaddafi's family, including a freeze of assets and a travel ban.
The Prime Minister also announced today that the British Government will provide emergency evacuation flights to repatriate up to six thousand people stranded in Tunisia.
Speeches and transcripts: Building Open Societies: Transforming Europe's Partnership with North Africa
Read more: British Government to provide emergency relief flights for Libya crisis victims
Published 2 March 2011