News story
Training for members on learning disabilities and difficulties
Training events in June raised awareness of the needs of people with learning disabilities and difficulties in the criminal justice system.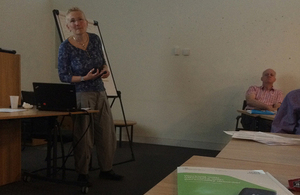 Almost a third of people in the criminal justice system (CJS) have learning disabilities or difficulties.
Four workshops to raise awareness of this statistic and the needs people with learning disabilities and difficulties have in the criminal justice system were presented for Parole Board members in June.
They were part of the 'Equal and Fair project' run by Keyring, a charity who provide supported living networks for people with learning disabilities and autistic spectrum conditions.
The sessions started by defining what learning disabilities and difficulties are, discussing related conditions like autism and ADHD, and how to support people who may have a learning disability, difficulty or autism.
They then moved on to discussing the common communication issues which prisoners with learning disabilities and difficulties may have and how Parole Board members can take these into account preparing for and in oral hearings.
When a condition is not understood or diagnosed it can have profound effects on a prisoner's mental health and also adversely affect chances of progression in prison or their potential release.
People can be embarrassed to ask for help, have developed coping mechanisms to hide their needs, or can be taken advantage of in prison due to their learning disabilities or learning difficulties.
With all this in mind, the Parole Board members were asked to discuss how oral hearings can be adapted to cater for people with specific needs to deliver a fair and effective hearing.
They also considered a case study for a prisoner with mild learning disabilities and worked in groups to consider what the right release plan should be for this (albeit fictional) prisoner.
The ideas in the workshops will be used to consider whether further guidance or training is needed for members about learning disabilities and difficulties.
We would like to thank the facilitators from Keyring for their engaging, honest and brave workshops, which brought into context some of the barriers that affect over 30% of the prison population.
They have presented to over 600 people in the CJS, reaching out directly to the people who can make a difference.
More information
KeyRing
Government documents
Published 25 July 2016