World news story
Trade mission to Singapore and Indonesia to boost exports
All-Party Parliamentary Group visited Singapore with 15 British companies from the education and infrastructure sectors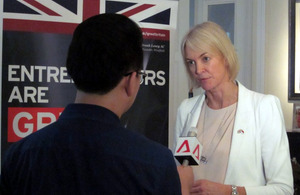 The All-Party Parliamentary Group (APPG) for Trade & Investment took a group of UK businesses and education providers on a trade mission to Singapore and Indonesia to strengthen business ties and boost UK exports.
The mission was led by APPG Chair Margot James MP and supported by Barclays, Prudential Plc and the UK ASEAN Business Council (UKABC). It was the first time that an All-Party Parliamentary Group has taken a trade mission on a visit to a market in conjunction with UKTI.
Fifteen British companies from the education and infrastructure sectors took part, including Warwickshire College, the University of Reading and Spark Architecture. Education and infrastructure opportunities are growing rapidly in South East Asia, which is one of the fastest-growing markets and predicted to be the fourth largest market in the world by 2030.
The mission started in Singapore where the group met key figures from the public and private sector education and business communities. Highlights of the visit included the Institute of Technical Education, Singapore's largest provider of career and technical education, and the iconic British-designed Gardens by the Bay, one of the largest garden projects in the world.
In Indonesia delegates networked with Government and business officials where they gained useful knowledge of the market and engaged with potential commercial partners. Visits included the World Trade Centre 2, the first certified green building in Jakarta's Central Business District, and the highly influential Indonesian Chamber of Commerce.
Trade and Investment Minister Lord Green said:
Getting more companies to export and attracting high-quality investment to the UK are key planks of the Government's Plan for Growth. Indonesia and Singapore are high growth markets and I am delighted to see this mission taking place.
Margot James MP said:
I am delighted to be leading this mission, the first such trade mission led by the All-Party Parliamentary Group for Trade and Investment. This trade mission is a fantastic opportunity to give British companies access to the exciting and growing markets of Singapore and Indonesia which are vital to delivering the UK's economic growth agenda.
Further information
Published 12 March 2013