World news story
Trade mission from North West England visits Chile
Covering cities such as Manchester and Liverpool, the North West of England is one of the most dynamic areas of the British economy.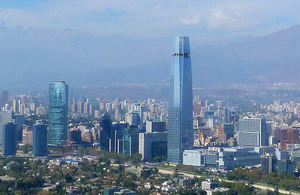 Attracted by Chile's positive economic climate, a trade mission for North West England will come to Santiago on 2nd-3rd December. Covering Cheshire, Lancashire, Cumbria and the cities of Manchester and Liverpool, the North West is one of the most dynamic areas of the UK economy. The delegation will visit Argentina and Brazil as well as Chile.
The companies visiting Chile are as follows
Cussons Technology: a specialist in education technology.
Chase International: spare parts for thermoelectric power generation.
Flexcrete: High performance coatings, for hygienic, waterproof and anti-corrosion applications.
Harland: design and manufacture of bespoke, automatic, self-adhesive label application systems.
Hubron International: a specialist manufacturer of carbon black thermoplastic masterbatch and conductive compounds.
Ironsides Lubricants: a grease lubricant manufacturer for industrial, automotive and specialist applications.
Libertas Therapy: Skincare and Wellbeing products, using only pure and natural ingredients.
Wheelwash: highway contamination prevention through cleaning systems for trucks and other vehicles exiting construction, quarry and mining, landfill and other sites.
For more information about the mission, see the brochure Trade Mission of North West England (PDF, 3.6MB, 20 pages)
Contact:
For further details and/or to contact the companies, contact Karl Royce at the British Embassy. You may also visit our UKTI pages to learn more about our trade and investment activities in Chile.
For more information about the activities of the British Embassy in Santiago, follow us on:
Published 25 November 2013