World news story
Top British diplomat visits Tanzania
UK's Head of Diplomatic Service Sir Simon McDonald completes his two-day visit to Dar es Salaam.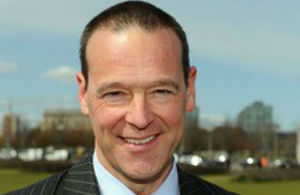 Sir Simon McDonald, Permanent Under Secretary and Head of Her Majesty's British Diplomatic Service was on a visit to Dar es Salaam helping to cement the close relationship between Tanzania and the UK, Tanzania's number one foreign direct investor.
During his two-day visit, the top diplomat met Tanzania's Foreign Minister Dr Augustine Mahiga and the Permanent Secretary for Trade, Industry and Investment, Prof Mkenda to discuss bilateral issues, investment opportunities and how the UK can further partner with Tanzania. He visited the Dar es Salaam port to see the port improvement programme funded by the UK's Department for International Development (DFID) through Trade Mark East Africa and the World Bank, and UK Border Force security assistance with United Nations Office on Drugs and Crime.
He met representatives from the private sector including Ali Mufuruki, head of the Tanzania CEO Round Table, as well as academia and civil society. He also had the opportunity to listen to the views of some of Tanzania's young people when he met DFID's Youth Panel, a group of young Tanzanian volunteers who advise DFID on policy.
Sir Simon's visit was part of a regional tour to Rwanda, Uganda and Tanzania.
During his visit to Tanzania, Sir Simon said:
This is my first visit to Tanzania and, I believe, the first of a Permanent Under Secretary. I am struck by the depth of UK interests in Tanzania, and our close bilateral relationship. From being the leading foreign direct investor, to our huge development partnership with Tanzania, I have seen the UK's strong commitment to Tanzania.My visit to Dar's port today showed me the UK-Tanzania partnership in action, including our activities to boost capacity, strengthen the investment climate, help tackle organised crime, and improve border security. I was delighted to be able to discuss these and many other bilateral issues with Foreign Minister Mahiga and the Permanent Secretary Trade & Industry.
Speaking on Sir Simon's visit, British High Commissioner Sarah Cooke said:
This was Sir Simon's first visit to Tanzania and was a chance for him to see, first hand, the strength of the UK/Tanzania partnership across a range of areas.
Sir Simon joined the British Diplomatic Service in 1982 and has served in Berlin, Jeddah, Riyadh, Bonn, Washington and Tel Aviv, and in a wide range of jobs in London. Before taking up the role of PUS, Sir Simon served as the British Ambassador to Berlin from 2010 to 2015, the Prime Minister's Foreign Policy Adviser and Head of Foreign and Defence Policy in the Cabinet Office from 2007 to 2010. From 2003 to 2006 he was British Ambassador to Israel. He was appointed Knight Commander of the Most Distinguished Order of Saint Michael and Saint George in 2014.
Published 5 July 2017