News story
Threat to Scots Law coming from supporters of independence
Alistair Carmichael's Scottish independence referendum speech to the Law Society of Scotland.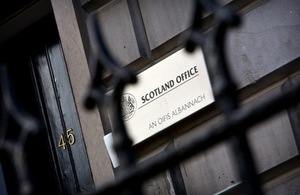 Scots law has always been protected and enshrined by the United Kingdom but is now under threat from those arguing for independence, Scottish Secretary Alistair Carmichael told a conference in Edinburgh today.
Speaking to the Law Society of Scotland, Mr Carmichael pointed to four Scottish Government policies he said 'strike at the heart of our legal system here in Scotland'.
The abolition of corroboration, the loss of Sheriff Courts, increased use of stop and search powers and the creation of a national police force all threaten the distinctiveness of Scots law said the Scottish Secretary.
He also set out many of the positive benefits for Scotland of being part of the UK 'we helped to create'. He also insisted he would not 'shy away from talking about the uncertainties and challenges that independence would bring'.
Mr Carmichael told the audience of lawyers that the Scottish Government needed to provide evidence to support their case for independence.
He said:
If someone wants to argue for my country to leave the United Kingdom – I expect to see the facts that back up their position. As lawyers we ask for no more in our daily professional lives. And on a decision as fundamental as this we should get no less.
Published 10 April 2014