Press release
The unseen work on Yorkshire's roads keeping us safe
As the Highways Agency continues to upgrade the M1 in West Yorkshire to a smart motorway, only meters away from the motorway surface there is an unseen world of activity.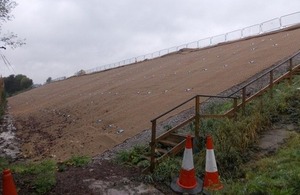 Ground enforcing measures such as rock bolts and soil nails are being installed to strengthen the new embankments and enable the old hard shoulder to be used as a running lane in the future. All this is being done at the same time as keeping around 40 million vehicles, which use this stretch of motorway yearly, moving.
This is just one example of the unseen work which takes place on our road network around the clock. Daytime 'on the ground' construction accounts for around 50 per cent of work seen by road users. The other half may involve night time installations, testing technology, or construction of embankments- just like this- out of sight of road users, often leading drivers to say they see little work.
So far the M1 J39 to J42 smart motorway scheme has placed 1100 soil nails, resurfaced over 200,000 square meters, laid more than 1.5 miles (2.6km) of ducting for data cables, removed more than 6000 tonnes of earth and brought in more than 1500 tonnes of new material.
David Pilsworth, project manager for the Highways Agency, said:
As autumn's darker evenings set in, it may be easy to think that road workers may be 'clocking off' earlier, when in fact, they're still working to make our road network less congested and safer for the future. This work is often unseen, or takes place during unsociable hours, but is just as important as it keeps our motorways safe and running effectively.
With European Health and Safety Week taking place from October 20 to 24, David is keen to emphasise the importance of having a safe working environment:
This year the theme of European Health and Safety Week is stress. We want to make the public aware that a safe working environment results in less stress for our workforce; while smooth journeys through road works mean a less stressful journey for those using our network. By working collaboratively with us, the public can help achieve an environment that is as stress free as possible. This can be achieved by showing respect to road workers, and observing the speed limits put in place to keep them and our workforce safe.
Another example of the work to make the road network safer in our region occurred earlier this year, when a large scale operation took place on the same eight mile stretch of the: existing steel barriers in the central reservation which were nearing the end of their lifespan were replaced with concrete step barriers (CSB).
Weighing in at a hefty 23,000 tonnes, the new barriers needed giant sized machinery to put in place. Today, these stronger, more robust barriers reduce the risk of crossover accidents- where vehicles break through the central reservation barrier to the other side of the motorway. This heavyweight of a safety feature took 10 months of construction, with much work taking place both during the day and overnight. Installation was completed ahead of programme in July this year.
Work on the M1 J39 to J42 smart motorway is progressing well, and is due to complete in autumn next year (2015). For more information and to register for regular updates on the scheme visit this website.
General enquiries
Members of the public should contact the Highways Agency Information Line on 0300 123 5000.
Media enquiries
Journalists should contact the Highways Agency press office on 0844 693 1448 and use the menu to speak to the most appropriate press officer.
Published 23 October 2014