World news story
The UK Supports Waste management industry in Egypt
The British Embassy, Cairo holds event to solve Egyptian waste management challenges.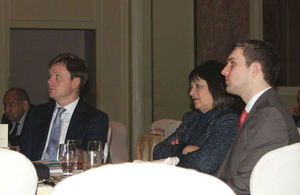 On Sunday, 23 March, the British Embassy in Cairo and the Egyptian Ministry of Environment held a joint discussion forum to identify sustainable and green solutions for the 'Waste Management' problem in Egypt. The event was led by the Embassy's UK Trade and Investment section and was a follow up from last month's (February 2014) scoping visit.
Her Excellency the Minister of Environmental Affairs, Dr. Laila Iskandar, and the British Deputy Head of Mission, Stephen Hickey, launched the event which was also attended by around 150 guests from both the private and the public sectors.
Speaking at the event, Stephen Hickey said: "On my visits around Egypt I've heard from a number of Governors about the need to reform and improve waste management in Egypt. The UK is determined to do all it can to support the Egyptian people and I'm delighted that we are able to help in this vital area."
Published 24 March 2014