World news story
The story of Adawele Integrated Farms
DFID-Ghana features Adawele Integrated Farms on International Day of Persons with Disability.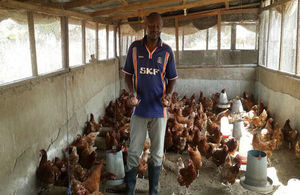 Ignatius Senali Seweh, is a 48-year-old visually impaired man who is married with two children. He completed Tamale Polytechnic and graduated with an HND in Agriculture Engineering. Ignatius worked as an Industrial Relations Officer with Ghana Cotton Company in Bolgatanga for 25 years until he was affected by retrenchment within his organisation in 2011.
Ignatius began his poultry and animal production in May 2014 in the Upper East Region where he started as a Business Promoter and registered as a sole proprietor of Adawele Integrated Farms.
Adawele Integrated Farm uses an integrated farming approach where poultry and animal production (poultry and ruminants) provide manure for the nourishment of land for economic tree production (moringa and mango).
Prior to joining the ENGINE Programme, Adawele Integrated Farms was at the early stage of operations and was faced with challenges to scale up. The two key challenges Ignatius outlined were access to funding for expansion (debt financing) and ineffective business management.
Baba Adongo, the ENGINE Programme Director, introduced Ignatius to the initiative when he visited his farm upon hearing of his efforts given that he is visually impaired. Ignatius registered and competed in the 2016 ENGINE programme. He then went through the vigorous selection and competitive processes and emerged as a successful Tier 2 Award winner.
Ignatius said:
The training I received under the ENGINE programme has transformed my business thinking from the usual traditional approach to a more modern business management processes. I acquired knowledge through the intensive Business Planning and Management Training and so I am now fully equipped with the necessary skills and knowledge to run my Poultry Farm.
Ignatius further indicated that the skills he acquired has enabled him to put together a proper business structure, good record keeping, adopted an accounting systems to manage inflows and outflows, improved daily operations, established marketing system and has put in place a good customer care process which has resulted in an increase in his 'loyal customer' base.
The business now generates an average revenue of GHC12,000.00 every quarter and has created jobs for 12 rural poor of which majority are women.
As part of the ENGINE award, Adawele Integrated Farms benefited from a constructed mechanised borehole to ensure quality and timely flow of water. This has helped to significantly improve the health of the birds and has also reduced the business overhead cost.
Ignatius concluded that:
before my encounter with ENGINE, I had no idea of business management till I was made aware that a profitable business hinges on best business management practices. The support is truly invaluable. How could I have afforded such enormous benefit at my level? I have really felt the impact of ENGINE and it's my wish that others should also benefit by sustaining the project.
Looking forward, Adawele Integrated Farms has a complete set of building materials procured for the expansion of the existing farm facility to accommodate 3,000 birds. ENGINE is planning to fully stock the farm with birds and employ a qualified volunteer to reach out to wider customer base.
Published 15 December 2016