Press release
The Rt Hon Chris Huhne MP visits Leeds as part of Big Energy Week
The Rt Hon Chris Huhne MP visited Leeds and East Yorkshire on Friday 20 January as Big Energy week came to a close. The Secretary of State …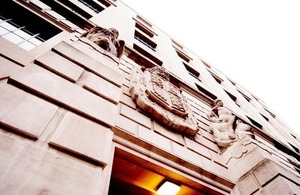 The Secretary of State started off by visiting the Reginald Centre in Leeds where he visited stalls giving advice from organisations which included Green Doctors (Groundworks), Wrap up Leeds, Feel Good Factor, Community and Safety and various others. Each of them looked at one specific area of energy saving advice such as insulation, switching, benefits entitlement and even food that can keep you warm.
He then met Leeds Council Chief Executive, Tom Riordan where they talked about 'The Economics of Low Carbon Cities' a paper looking at return on investment of low carbon options. It states that for every £1 billion invested there would be estimated returns of £220 million and 1000 jobs created.
Next on the agenda was a visit to Greenhouse, a mixed-use sustainable development, and winners of one of the Yorkshire Post Environmental Awards in 2011.
The site they built on was an old 1930's workers lodge earmarked for demolition, within a major regeneration area. Blending old with new, they enhanced existing features and built on the existing foundations.
The overall project consists of a collection of distinctive homes and offices powered by sustainable energy. Using pioneering technology, they create clean energy to support everyday living and working, without compromising on design, function or quality.
The homes at Greenhouse will save the average resident around £600 a year on their energy bills.
Finally he paid a visit to GWE Biogas who are another company who won one of the Yorkshire Post Environmental Awards.
The visit consisted of a tour of the facility, where the Secretary of State was shown through the whole process from beginning to end.
GWE Biogas Ltd is a privately owned company formed by Tom Megginson and Mathew Girking in early 2008 to develop an Anaerobic Digestion plant designed to treat 50,000 tonnes of food waste.
Published 20 January 2012