World news story
The Queen's Birthday Party 2015 in Cameroon
A QBP celebrating 800 years of the Magna Carta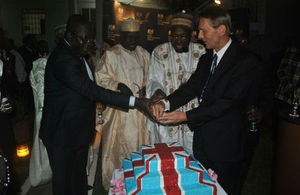 It was a memorable event at the Residence of the British High Commissioner, H.E Brian Olley on Thursday 11 July as the over five hundred guests gathered in amazement and posed for photographs around the copy of the Magna Carta or around the birthday cake.
This year's theme of the QBP in Cameroon was "Celebrating 800 years of the Magna Carta. This charter signed on 15 June 1215 provided for peace between King John and his barons and established certain rights for the people. The Magna Carta remains a centerpiece of the UK's legal system and has also influenced many jurisdictions across the globe.
The ceremony was also an avenue for the British High Commissioner, H.E. Brian Olley to thank host government for the shared friendship with Her Majesty's Government, as well as thank UK companies in Cameroon for being supportive in the organization of the QBP. Participants at the birthday party were ministers, top ranking officials within the government of Cameroon amongst others.
Published 19 June 2015