The internet age will help end the town hall 'non-job'
Eric Pickles calls time on 'non-jobs' and urges greater vigilance over how every taxpayer pound is spent.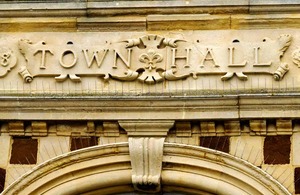 Council job adverts should be syndicated across the internet, to save money, increase transparency and help reduce pointless posts, Eric Pickles, Local Government Secretary will say today (6 July 2010).
At a speech to the Local Government Association conference in Bournemouth, he will call time on so-called 'non-jobs' and urge greater vigilance over how every taxpayer pound is spent.
It can cost £5,000 to £10,000 to place an advert in some national newspapers. Often classifieds are filled with job titles many people would struggle to understand and many more that appear superfluous to the key services local people look to their council to provide.
The new government will be working with local government not only to put online information on spending, tenders and contracts over £500, but also to publish job vacancies online, in an open and standardised format, for anyone to use, re-publish and 'mash up' without charge. There will be no public sector monopoly - the jobs data can be used by anyone, from commercial recruitment, newspapers to pressure groups.
This will not end advertising in the media; local newspapers in particular will remain an important source to advertise jobs to those who may be 'digital excluded' and not have access to the internet. But over time, putting job adverts online will drive down advertising costs, make it easier to compare pay ranges within and across councils, and show local people where their council tax goes.
Eric Pickles will say to the conference:
"Putting jobs online not only shows local people where their money is going. It will mean they can question whether those jobs are really needed at all.
"What does an audience development officer do? Is a 'cheerleading development officer' what taxpayers want? How many transformation officers and business development directors does one council need?
"One council was even advertising for someone to spin for their bins last week. I wonder whether their residents actually want a 'communications waste strategy officer.' Or whether they'd prefer a few more bin men."
Published 6 July 2010