World news story
The Embassy participates at the Christmas trees show in Chile
Christmas trees from different countries will be on display at Parque Bicentenario, District of Vitacura, Santiago, until 4 January 2015.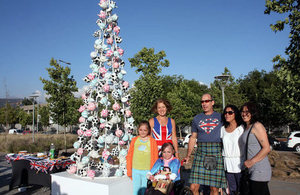 The British Embassy is participating at the Christmas trees exhibition Christmas trees exhibition "Árboles del Mundo" organised by ED Magazine and the "Asociación de Damas Diplomáticas".
The British tree is part of an exhibition that includes Christmas trees from Peru, Malaysia, Greece, Germany, South Africa and Palestine. Each tree was designed and built by Chilean artists who tried to capture (in very peculiar ways at times!) an idea about each participating country.
This initiative is a way to raise awareness about a very rare skin disease called "Epidermolysis Bullosa (EB)" AKA "Crystal Skin", which is characterised by extremely fragile skin and recurring blister formation. DebraChile is the organisation that supports children affected by this disease in the country.
The trees will be on display at Parque Bicentenario until 4 January 2015.
Further information
For more information about the events and activities of the British Embassy in Santiago, follow us on:
Published 31 December 2014