The Committee on Radioactive Waste Management is recruiting
The Committee on Radioactive Waste Management (CoRWM) is recruiting for eleven members.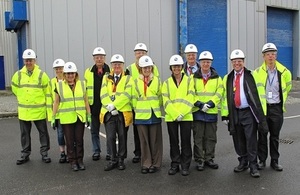 The Committee provides independent advice, based on informed scrutiny of the available evidence, to UK Government and Devolved Administration Ministers on the long-term management of radioactive waste, including storage and disposal. Its primary objectives are:
to provide independent evidence-based advice to sponsor Ministers on the Government's, Nuclear Decommissioning Authority's (NDA) and Radioactive Waste Management Ltd's (RWM) programme to deliver geological disposal (except for Scotland), together with robust interim storage, for higher activity radioactive waste;

to provide independent, evidence-based advice on other radioactive waste management issues as requested by sponsor Ministers, including advice requested by Scottish Government in relation to its policy for higher activity radioactive waste.
CoRWM plays an essential and high profile role in demonstrating the Government's committment to transparency and use of evidence in guiding radioactive waste policy.
This is vital to the UK Government's delivery of a highly-engineered geological disposal facility (GDF), building public understanding and trust, and the ongoing development and implementation of safe, secure, environmentally sound and publicly acceptable radioactive waste management programmes across the UK.
More information
For more information on what the Committee does, please see the links below:
The existing membership of the Committee can be found on the CoRWM homepage.
How to apply
If you are interested in applying for a role as a member of CoRWM, please see the advert for all of the relevant information. The closing date for receipt of applications is 18 March 2016.
Published 2 March 2016