World news story
The British High Commission Accra awards Mawuli Secondary School
British High Commission awards Mawuli Senior Secondary School in joint recognition of the COP 21 initiative.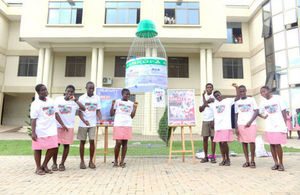 The British High Commission in collaboration with the European Union in Ghana together with the Embassies of France and Norway, the Ministry of Environment, Science, Technology and Innovation (MESTI) and the Environmental Protection Agency (EPA) of Ghana, awarded the winners of a joint National Schools Drawing Contest on Climate Change.
Mawuli Senior High School in Ho,Volta region received the prize for First runner up for the national school climate change drawing contest as part of the joint recognition of the COP 21 initiative. Launched in September 2015 as part of the European Year for Development 2015 and ahead of the Conference on Climate held in Paris (CoP 21), the National Climate Change Drawing Contest was organized under the theme "Seed for Change – Plant an idea to deal with climate change in Ghana".
More than 800 schools submitted drawings in the 10 regions across Ghana after participating in information sessions run by the Environment Protection Agency (EPA) on the impact of climate change in every region. The imagination and creative skills of the winners were praised by Former President of the republic of Ghana, H.E. John Agyekum Kufuor, United Nations Special Envoy on Climate Change, in a congratulation speech.
The British High Commission Accra congratulated the winning school with a sustainability workshop and sponsored an installation piece designed by Hipsters of Nature, a Ghanaian based organization dedicated to promoting environmental sustainability through creative art solutions. The installation termed the 'Sankofa' bottle is a word in the Twi language of Ghana that translates as, going back to take what is forgotten. The 'Sankofa bottle' will be housed on the school's ground and will serve dually as a recycling cannon for plastic bottle waste and as a reminder of the benefits of recycling and sustainable living. Similar installations are located at the Alliance Française centre and at Lycee' International school in Accra. The collected bottles are thereafter recycled by Skyplast Company and reused by Hipsters of Nature to demonstrate multi-storey gardens to students and households in Nima.
The adjoining workshop offered hundreds of students of Mawuli Secondary School the opportunity to look at the practical methods they could adopt to address recycling and sustainable living solutions. Students engaged with artists and environmental specialists of Hipsters of Nature who taught them ways of transforming waste materials found within their community. This included recycling old pieces of clothing into new practical items and turning waste products such as plastic carrier bags, plastic sachets and bottles into arts and crafts.
For more information, visit the Climate Action Website of the European Union, the website of the French Embassy to Ghana for information on the COP21 and the Agence française de développement in Ghana.
Watch the COP21 video.
Published 16 June 2016