World news story
The British Embassy is recruiting for a Commercial Officer
The Commercial Officer will identify and develop opportunities with specific reference to the mining sector and its support industries.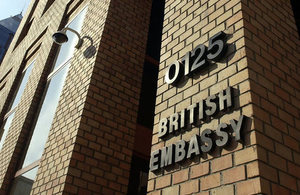 The A2 (L) Commercial Officer will promote British exports to Chile. The jobholder will identify and develop opportunities with specific reference to the mining sector and its support industries, market them to appropriate UK companies and assist these UK companies in their business development.
Duties and responsibilities:
Identify opportunities – from desk research, contact networks, sector knowledge
Identify appropriate UK companies and market opportunities to them
Market UK capacities to Chilean stakeholders
Plan and deliver activities to match Chilean needs to UK capabilities.
Competences Required:
Collaborating and partnering
Create and maintain positive, professional and trusting working relationships with a wide range of people within and outside the organisation to help get things done. Requires working collaboratively, sharing information and building supportive, responsible relationships with colleagues and stakeholders, whilst having the confidence to challenge assumptions.
Delivering at pace
Focusing on delivering timely performance with energy and taking responsibility and accountability for quality outcomes. It's about working to agreed goals and activities and dealing with challenges in responsible and constructive way.
Achieving commercial outcomes
Being effective in this area is about maintaining, a long-term focus in all activities. It's about having a commercial, financial and sustainable mindset to ensure all activities and services are delivering added value and working to stimulate economic growth.
Making effective decisions
Effectiveness in this area is about being objective; using sound judgement, evidence and knowledge to provide accurate, expert and professional advice. It means showing clarity of thought, setting priorities, analysing and using evidence to evaluate options before arriving at well reasoned justifiable decisions.
Education and Qualifications:
+3 years of previous experience
Excellent command of written and spoken English and Spanish
Good understanding of the Chilean mining sector
Strong research skills
Organizational abilities
Contact network in the mining sector and/or related industries desirable
Occasional travel requirements
Good IT Skills: Excel, Word, Outlook and PowerPoint.
Benefits:
Monthly Gross Salary $1,213,106 Chilean pesos
18 days annual leave on first year
36 hours per week
The British Embassy is committed to the ongoing training and development of its staff, and training will be provided as appropriate.
Employment is subject to a 3 month fixed contract with the possibility of renewing for a permanent contract afterwards. Access to a medical scheme and other benefits are available under a permanent contract only.
This position is graded as Locally Engaged, at A2 (L) level.
Job starting date: 1 December 2014
How to Apply:
If you meet the requirements and relevant criteria for this position, please send your CV with a short covering letter, both in English, explaining what skills and experience you possess that makes you an excellent candidate for this job, to the following email address: Recruitment3.AmericasRegionalHub@fco.gov.uk

Applications should be sent in an electronic format with all attachments included not exceeding 1MB. Do not include a photograph.

A receipt will be automatically generated upon successful receipt of your application. Your application should be sent with the position you are applying in the subject.

Closing date for applications is 08:00 AM (local time, Mexico City) Monday 3 November 2014. Applications received after this deadline will not be considered.
Only those candidates who are short-listed will be contacted and called for interview.
Applications that do not fully comply with the instructions above will not be taken into consideration.
The British Embassy in Santiago Chile is committed to a policy of equal opportunities and to creating a diverse working environment, free from discrimination, where everyone is included and treated fairly, based on merit alone. We are an equal opportunity employer, making all employment decisions without regard to race, gender, religion, national origin, citizenship, disability, age, sexual orientation, political affiliation or any other criterion protected by law.
Published 20 October 2014