World news story
The British Embassy helps Oxford University Press expand their development programme in Bulgaria
An Embassy event celebrates the third year of the highly-successful OUP programme of seminars for teachers in Bulgaria.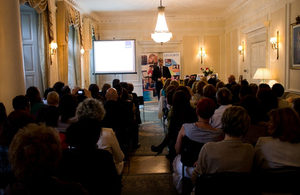 On 26 June 2013 UKTI Sofia organised an event with OUP to celebrate three years since the start of their qualification programme for English language teachers. As a result of the programme, lecturers from the UK and other European countries can share the latest developments in language training with their Bulgarian colleagues.
The event, hosted by the British Ambassador Jonathan Allen, was attended by headmasters and teachers from prestigious primary and secondary schools across the country, as well as representatives from Sofia University "St. Kliment Ohridski" and the New Bulgarian University. Lecturers from these institutions also took part in the seminars organised by OUP in several large Bulgarian cities throughout last year.
HMA Jonathan Allen said:
The UK has an exceptional and deserved reputation for its education – from developing training materials and technologies, through English language training as well as the quality of education provided by our schools and universities. I am very pleased that today we celebrate the third year in which Oxford University Press runs a highly-successful programme of seminars for teachers in Bulgaria – the Oxford Professional Development Programme.
The British Embassy in Sofia and its Trade & Investment team have been working with OUP for over three years. The embassy supported the expansion of Oxford Professional Development programme in Bulgaria and hosted their annual meetings as part of the programme. In addition, the embassy worked together with OUP and other British textbook publishers in the area of liberalisation of the textbook market in Bulgaria. UKTI Sofia have discussed with Bulgarian institutions the benefits, both for students and for the publishing industry, of a truly open and transparent market in Bulgaria.
OUP is a department of the University of Oxford and the biggest university publishing house in the world with more than 500 years of experience in publishing English language learning materials.
Published 8 July 2013