World news story
The British Embassy celebrates the Royal Wedding in the UAE
The British Embassy in UAE celebrates the marriage of The Duke and Duchess of Sussex, on board the Queen Elizabeth 2.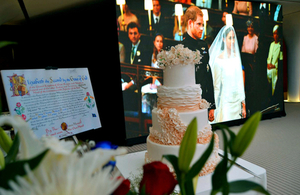 On Saturday, 19 May 2018 The British Embassy in the UAE organised an evening reception and suhoor to celebrate the marriage of Prince Harry and Ms Meghan Markle, on board the Queen Elizabeth 2, Mina Rashid in Dubai. The event was held in cooperation with DP World. A wide range of the UAE's high-level officials and businesspeople attended the event to mark this historic occasion in the modern history of the British monarchy. The reception offered an opportunity for the UK and the UAE to add a new friendly page in their proud book of strong people-to-people links.
During the event, Her Majesty's Ambassador to the UAE, Philip Parham said:
In a world beset by challenges which are often created by selfishness and division, the royal marriage is uniting people of all types from all over the world in a celebration of inclusive love. Prince Harry and his bride have made clear that they want us all to share in their celebration. It is very special for us to do so with our Emirati friends in this iconic venue, which is named for Prince Harry's grandmother Her Majesty the Queen. We are most grateful to DP World for enabling us to use the QE2.
Published 21 May 2018