World news story
The British Embassy Brussels on social media
Follow the latest news and activities of the British Embassy in Brussels on social media.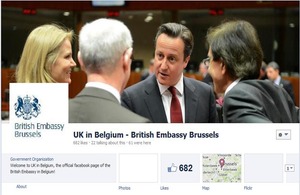 As social media continues to evolve into one of the most important ways to communicate online, we are developing a strong presence across a range of channels, making us more accessible, more open and more transparent in the way we communicate.
Did you know for instance that the Foreign & Commonwealth Office (FCO) have been at the forefront of the Twitter phenomenon in the United Kingdom? Her Majesty's government was the first to create a Twitter manual for government departments and employees in 2009.
Here in Belgium, you can now follow us on:
Facebook: www.facebook.com/britishembassyBrussels. Follow our events, news and activities from the FCO and our partners
Twitter: www.twitter.com/ukinbelgium. Our embassy account, Tweeting about the UK and Belgium, foreign affairs, culture, art etc…
LinkedIn: www.LinkedIn.com/groups/Missions-in-Belgium. Our UK Missions in Belgium group, where job openings are published.
YouTube: www.youtube.com/user/ukforeignoffice. Watch the Foreign & Commonwealth Office's official YouTube channel videos
In the near future we will start to produce newsletters and use other digital initiatives, so follow us to hear it first via our digital channels.
Published 24 May 2013