World news story
The British Business Awards: 'Great doing Business with you'
The British Business Awards in Lebanon recognise excellence, success and innovation across five categories of prestigious British businesses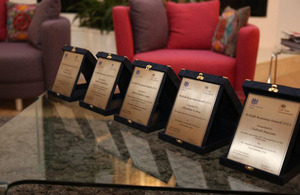 UK Trade and Investment and the British Embassy organised the first ever 'British Business Awards' in Lebanon. The awards recognise and promote excellence in innovation, success and commitment among prominent Lebanese businesspeople and entrepreneurs.
The high profile awards ceremony was held at the residence of British Ambassador Tom Fletcher and attended by His Excellency Minister of Trade Nicolas Nahas, leading business and media figures, entrepreneurs and lawyers.
The British Business Awards 2013 recognise excellence across different sectors of prestigious British businesses in Lebanon: this year the Awards are celebrating achievements in the power, consumables, automotive, and leisure sectors.
Addressing the event, Ambassador Tom Fletcher said: 'Britain and Lebanon are two of history's greatest trading nations. We are honouring the individuals and companies who are helping us to double trade between our two countries, and we are showcasing Lebanon's talent and resilience. Great Lebanon, Great Britain, Great Business.'
Ambassador Fletcher then presented British Business Awards in the following categories.
Largest importer from Great Britain in 2012 : Ghaddar Machinery, Chairman Mohamed Ghaddar
Representing the largest variety of premium British products in Lebanon: Khalil Fattal et Fils, Chairman Kahlil Fattal
Largest retailer of British products in Lebanon, supporting stability, MANA Automotive, Chairman Nadim Tawtal
Oldest representative of the Jaguar brand worldwide, General Manager Wissam Trad
Sale of 100th Princess boat in the Middle East in 2012: Chehab Marine, Mohamed Chehab ,
Useful information
Follow the British Embassy in Lebanon on Twitter: @UKinlebanon
Follow Ambassador Tom Fletcher on Twitter: @HMATomFletcher
Follow our Trade and Investment team on Twitter: @UKTILebanon
We are on Facebook: UK in Lebanon
Visit our website: www.gov.uk/government/world/Lebanon
Published 8 November 2013