World news story
Team Commonwealth celebrated on Commonwealth Day in Cameroon
This was published under the 2010 to 2015 Conservative and Liberal Democrat coalition government
Members of the Commonwealth Family in Cameroon celebrated team spirit in promoting the Commonwealth across the country.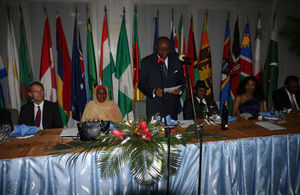 "Team Commonwealth" was the theme chosen for this year's Commonwealth Day celebration and in Cameroon the week long activities organised did echo this theme.
During the Commonwealth Stakeholder's Conference organised on the 10th of March at the International Relations Institute of Cameroon, Commonwealth Minister Joseph Dion Ngute , lauded the benefits of belonging to a group such as the Commonwealth.
Speaking to stake holders and heads of Commonwealth diplomatic missions present Minister Ngute said "it makes sense to join a group that has positive values. The Commonwealth has a distinctive hallmark in that it is an association of governments and people which gives the people a say in the way their governments are led". He called on team members of the Commonwealth family in Cameroon to ensure that the values of the Commonwealth are promoted in their activities and by so doing a nation wide promotion of the new Commonwealth Charter will be achieved.
Later in the same day, a Commonwealth Gala took place at the Yaounde Congress Hall presided by External Relations Minister, Pierre Moukoko Mbonjo who thanked all actors for their contribution to the growth of the Commonwealth.
A prize award ceremony to winners of the National Commonwealth Essay and song competitions saw the British High Commission awarding tablets and the British Council awarding books to the best two winners of all categories of the essay competition.
Commonwealth day 2014 also witnessed the participation of UK company DIAGEO. Cricket Without Borders was also present with visiting members of the organisation taking part in the Commonwealth Day cricket match that held on the 9th of March.