World news story
Teaching Tolerance
First peace education school takes place in Bishkek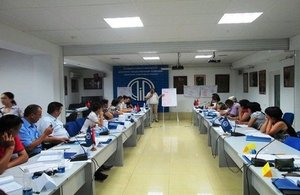 On 24-28 June, the Institute for Public Policy (IPP) ran in Bishkek its first peace education school for teachers, secondary school officials and education workers, with the support of the British Embassy Conflict Pool.
The training programme developed by IPP is approved by the Scientific Council of the Kyrgyz Academy of Education, and is recommended by the Ministry of Education and Science as a way of promoting tolerance among school children. The programme focuses on developing constructive interactions among children from all ethnic groups, and equips teachers with practical skills to manage discussions on issues such as human rights, conflict resolution, tolerance and cross-cultural communication.
Building on the success of the first peace education school, IPP plans to organize more such schools for teachers and young leaders this year.
The British Embassy Conflict Pool aims to reduce the potential for conflict and to promote stability in the region.
Published 1 July 2013