Press release
Sword-wielding Bristol murderer to spend longer in prison
Kerr Somers has had his minimum term increased to 21 years after the Attorney General's referral.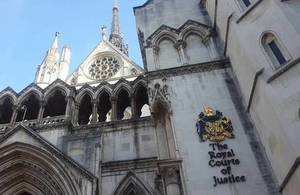 A man who murdered his friend with a martial arts weapon has today had his sentence increased after the Attorney General, Geoffrey Cox QC MP, referred his sentence to the Court of Appeal for being too lenient.
Kerr Somers, 29, and Nathan Jones, 39, had been out drinking in Bristol together when they got into a fight. After leaving the pub, Somers returned home, armed himself with the sword, and hid in a hedge that he knew Jones would pass. Somers then snuck up behind Jones and stabbed him with such force that the sword penetrated all the way through his body. He later claimed that he had acted in self-defence.
Somers was originally sentenced at Bristol Crown Court in July to life imprisonment with a minimum term of 18 years. Today, after the Attorney General's referral, the Court of Appeal increased his minimum term to 21 years.
Commenting on the increase, the Attorney General said:
"Somers' brutal attack on Nathan Jones was just the latest in a series of violent offences. The Court of Appeal's decision today ensures greater public protection from this dangerous individual."
Published 3 October 2018