World news story
Sustainability in the mining sector breakfast in Chile
From:

Part of:

Published:

13 November 2014
This was published under the 2010 to 2015 Conservative and Liberal Democrat coalition government
Representatives from the mining sector attended a breakfast in Santiago to discuss sustainability in the industry.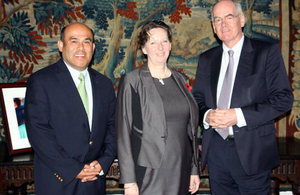 UK expert John Elkington visited Chile to speak at a series of events related to business viability, social impact and environmental sustainability in the mining industry.
John Elkington, who has worked with governments, businesses and entrepreneurs around the globe, shared the UK and international experience in sustainable mining to participants such as Fernando Nilo, the President of the Recyclapolis Foundation.
Sustainability in the mining sector is a very relevant issue for Chile as the industry is still facing numerous environmental and social challenges. Increasingly, the wider Chilean population is expecting even more responsibility not only from the mining sector but the industry as a whole. The discussion presented by John Elkington highlighted these challenges and opened debate for future sustainable mining practices.
This event was organised by the embassy, within the framework of the British Month in Chile. In 2014, it is mainly focused on the mining sector and related industry.
On the occasion, Ambassador Fiona Clouder said:
We recently had the Chilean Minister for Mines, Mrs. Aurora Williams, in the UK and she brought up many of these issues. So, I think this is a very timely conversation that we are having here today, and many others are probably having across the country.

The UK government has identified the Chilean mining sector as a key overseas market where there is lot of crossover between the Chilean needs and UK's experience and offer.

The UK wants to compete where it can really add value to Chilean mining and without a doubt, I think that sustainability, environmental management, water and energy- all topics I'm sure we'll discuss today are areas where we can contribute to Chile's sustained growth in the future.
Further information:
For more information about this event, contact Scott Bennett, UK Trade and Investment Officer, British Embassy, Santiago.
For more information about the events and activities of the British Embassy in Santiago, follow us on:
Document information
Published: 13 November 2014