World news story
Supporting inclusive media policies in Macedonia
British Embassy provides programme assistance support on media sector development in Macedonia.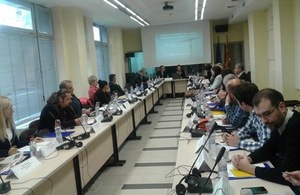 The need for a sustainable dialogue on court practices on freedom of expression between media and judiciary in Macedonia was among the key messages from the event held today at the Academy of Judges and Public Prosecutors in Skopje. The event is part of a British Embassy supported project implemented by the Association of Journalists of Macedonia in cooperation with various stakeholders on the issues relating to media and judiciary. Our ambassador was among the speakers at the event along with Mirjana Lazarova-Trajkova, Judge at the European Court of Human Rights in Strasbourg, and professor Dejan Donev from the Law Faculty in Skopje, specialist in media and ethics.
Speaking at the event our ambassador Charles Garrett said:
I warmly welcome this debate on freedom of expression and how it relates to both media and judiciary. Both are important aspects of a democracy. In fact, I would say that they are two central foundation stones of a democracy, and therefore the two foundation stones of Macedonia's future. Each has its own life and role to play. But they often overlap too. And the health of that overlap is one indicator of the health of a democracy. We in the UK certainly don't have answers to all the questions. Democracy is not a beautiful end-state of political and social development. It is a dynamic and living state which demands constant examination, change and adjustment.
The project 'Inclusive Media Policy Development' is being implemented from May 2014 until November 2015 by the Association of Journalists of Macedonia. Its main focus is the court practice on cases involving freedom of expression, and to help improvements in the media sector of situation and the image of the country related to media freedoms, key media stakeholders such as Association of Journalists of Macedonia must be engaged in creating local media policy.
British Embassy Programme Assistance
Connect with us on Facebook or follow us @ukinmacedonia
Connect with the British Ambassador on Facebook and @BritAmbCGarrett
Read our blog ukinmacedonia
Published 24 October 2014