World news story
Support to administration reforms in Macedonia continues
The British Embassy Skopje launches new phase of support for public administration reforms in Macedonia.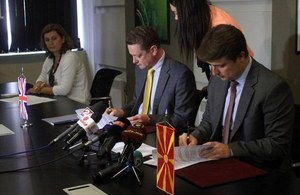 Macedonian administration will continue its reform with British support in the coming months by introducing and managing a competence-based human resources management framework. It will help the Macedonian administration increase its effectiveness and improve the services that it delivers to citizens. The next phase of support to the reform of public administration in Macedonia was launched by signing a memorandum of cooperation by British Ambassador Christopher Yvon and Macedonian Minister of Information Society and Administration Ivo Ivanovski on 16 July in Skopje.
Speaking at the launch of the project Ambassador Yvon said:
The support that the United Kingdom provides to Macedonia in reforming the public administration is important in several regards. It reflects the UK's friendly and longstanding support to Macedonia on its road to EU integration. It will help the Government to achieve a more effective administration and deliver efficiencies. It will also help improve the quality of service offered to the public.
The project support will be implemented in the period up to March 2015.
Published 16 July 2013