Support for long-term recovery in Tottenham and Croydon
A £20 million enterprise and growth package for Tottenham and Croydon that will kickstart economic regeneration, support business and deliver…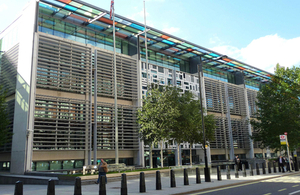 A £20 million enterprise and growth package for Tottenham and Croydon that will kickstart economic regeneration, support business and deliver new job opportunities has been announced by the Communities and Local Government Secretary Eric Pickles today.
The London Enterprise Fund is intended to provide specific, targeted support for Tottenham and Croydon to arrest and reverse economic decline, provide immediate investment and boost the local economies.
Tottenham and Croydon bore the brunt of the recent disturbances. The riots served to compound existing economic pressures in what are already challenging business environments.
The flexible, unringfenced funding that the Communities Secretary is making available today is intended to address the long standing barriers to growth in these two specific areas. It will support them in maximising their potential, establishing economic identities that will put them on the map and creating apprenticeships and job opportunities for local residents.
The experience of the two boroughs, compared to others in west and central London, shows how growth across the capital in recent years has been uneven. Ministers want to ensure that all boroughs are able to benefit from growth and believe that the funding announced today will help achieve this.
The Government will make available £20m of funding to the Greater London Authority. This will enable the Mayor and partners to get started immediately to work with the areas to develop plans. The proposals will be worked up further with the boroughs concerned but it is anticipated that the money may be used to:
Acquire and redevelop land where it will aid development and get businesses back on their feet quickly. The Greater London Authority will consider land acquisition where it enables and stimulates commercial growth and success including increasing footfall.
Bring forward investment in transport in Tottenham and Enfield to establish the infrastructure that will underpin growth. Including measures to reduce congestion, improvements to the rail station and reduce the severance of the area by the West Anglia Main Line.
Restore and regenerate Croydon as a retail commercial centre. The town centre has undergone steady decline over the last 20 years. There are significant opportunities to develop new commercial and residential properties and attract new commercial space around the New Town and East Croydon station.
Create employment with new businesses, new jobs and Apprenticeships targeted at local residents. Investment in the physical regeneration will create new jobs and skills opportunities for local people
Invest in business rate relief for local start ups and new investment. Targeted on businesses and sectors that will increase the competitiveness and economic vitality of each area.
Communities and Local Government Secretary Eric Pickles said:
Just as we want the whole of the country to share in the benefits of economic growth so too do we want the whole of the capital to be thriving. London is a success story but it is a story that reads very differently depending on which borough you are in. This immediate investment will breathe new life into both Tottenham and Croydon, enable them to get to grips with the unique challenges they face and move swiftly and quickly to maximise their own potential for economic success.
The Communities Secretary was joined in Tottenham today by the Mayor of London to announce this package of support.
Boris Johnson said:
We will rebuild and repair every part of our city that has been damaged and help London's businesses get back on their feet. For the most badly affected areas, Tottenham and Croydon, it is vital we also use the opportunity to deliver long term improvements and create new jobs and skills that will benefit these communities for generations to come. With this support from Government, we can not only restore these town centres but create better, more prosperous places to live, work and invest in.
The £20 million funding will be made available over the next three years for specific, swift action that will deliver longer term regeneration. It comes in addition to the £50 million recovery funding the Government announced last week to give immediate support to areas across the country affected by the disturbances and help them get back on their feet. The London Enterprise Fund is closely aligned with the Mayor of London's £50 million high street improvement package announced last week that will ensure that areas right across the capital are able to access support.
The tailored package of support for Tottenham and Croydon comes on the day that the Government has announced 11 new Enterprise Zones to accelerate local growth as part of the Plan for Growth. The press notice is available here: www.communities.gov.uk/news/newsroom/1967595.
Notes to editors
The Mayors office will be working closely with the Department for Communities and Local Government, Boroughs and local representatives to agree funding priorities and proposals. The decisions will be made in partnership with local councils and those communities affected. All proposals will have to demonstrate value for money in terms of the benefits to affected areas.

The £20m London Enterprise Fund announced today will complement the £50 million fund that the Mayor of London announced last week to help make major long term improvements to the capital's town centres and high streets damaged by the recent disturbances ensuring that all parts of the capital are able to access financial support. For further detail visit the City Hall website: www.london.gov.uk/media/press_releases_mayoral/mayor-invest-%C2%A350-million-long-term-regeneration-capital%E2%80%99s-damaged-town- (external link).
Twitter
Keep up to date with the Department by following us on Twitter (external link).
Media enquiries
Visit our newsroom contacts page for media enquiry contact details.
Published 17 August 2011